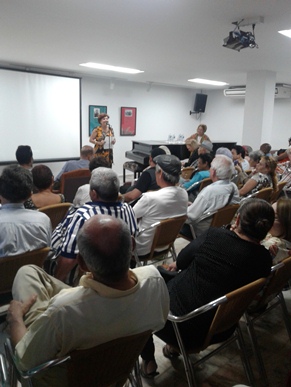 A passionate and grateful audience filled the Sala Rubén Martínez Villena of the Association of Writers and Artists of Cuba (UNEAC), for the presentation of the documentary "Huberal" by the director José Galiño.

The 57-minute documentary film, which is sponsored by Audiovisual Producer Octavio Cortázar, is dedicated to that great concert pianist, maestro Huberal Herrera, a prodigious performer who has delighted the Cuban public for more than half a century with his rigor, professionalism, and talent.

The history of the concert pianist and maestro Huberal Herrera is coherently imbricated with the pieces that have marked his repertoire over time, in which he has included authors such as Manuel Falla, Sergei Rachmaninov, Robert Schumann, Franz Liszt, Ludwig van Beethoven, Félix Guerrero, Marco Rizo Ayala, and Juan Piñera, but without a doubt, his name stands out in the appropriation of Ernesto Lecuona's songs and he has been recognized by critics to be his most faithful performer.

Through this combination, the audiovisual director takes advantage so that his protagonist can relate significant moments of his childhood, youth, and professional performance.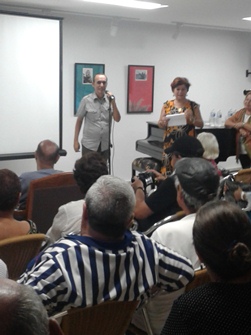 "For me to have Huberal as a contemporary is beautiful," said the maestro and composer, Juan Piñera, "maybe Huberal is remembered as the performer par excellence of Ernesto Lecuona, but I want to remind you of something: in times when many did not have the courage to confront the dictatorship of Fulgencio Batista, a very interesting society emerged that was a model for UNEAC, the Culture Club 'Nuestro Tiempo'. There Huberal was the piano performer of works of its president, Harold Gramatges, as well as pieces by Juan Blanco, who composed for piano and was the treasurer of that Club.

In addition, the speaker recalled that the pianist premiered pieces of novel figures -who were approaching this society of progressive and anti-imperialist thought-, such as Carlos Fariñas and Héctor Ángulo.

"That is, what would be the avant-garde of musical thought after the triumph of the Revolution and Huberal had the courage to perform that music, the courage because they would have given him a beating for belonging to that society."

Piñera also pointed out that after the triumph of the Revolution an immense figure of Cuban culture, the composer and performer Ernesto Lecuona, was rescued and revitalized by Esther Borja and Huberal Herrera, the latter taught his students to know him in depth and redeem that genius of Cuban music of mediocre opportunists who tried to tarnish his name.

"Huberal was one of the first partners, after Lecuona, of the General Association of Authors and Publishers (SGAE) of Spain", says the professor and repertoire performer Juan Piñera and adds on another facet of the honoree: "he is a delicate composer who has created works corals, for piano, voice and piano and chamber music."

"He is a person who remains active when others have already left the battlefield that is the scenario," the artist stressed and shared an anecdote about the worth of this distinguished teacher: "The other day he gave me a master class of what is the permanence of the current artist. In the founding days of the National School of Art that was forged and built by three great architects: Ricardo Porro, Roberto Gottardi and Vittorio Garatti, the latter was very close to Carlos Fariña and wanted to be a tribute to Vittorio. He knew who Huberal was and thrilled him by giving a sample of the work of Carlos Fariñas before Garatti at the Museum of Fine Arts, and he brought out a work that had gone unnoticed by all Cuban pianists and an avant-garde individual is the person who scrutinizes in all corners and made an absolute premiere: La conga de Julio."

Similarly, Piñera stressed that if there is a group of illustrious Cubans; Huberal Herrera is one of those who exalts that Cuban identity. The Cuban composer and pianist Huberal Herrera was born in Holguín, on May 28, 1929, and even without knowing it, he already had space where he could reflect his authentic self, and show that he was born for music.

From the age of four he played the piano purely as the geniuses do, who not only conform to a profession and multiply knowledge; in addition to being a pianist, he holds a Ph.D. in Law, a degree in Administrative Law, a Diploma in Diplomatic Law, a consul in the University and a founding member of the National Association of Writers and Artists of Cuba (UNEAC).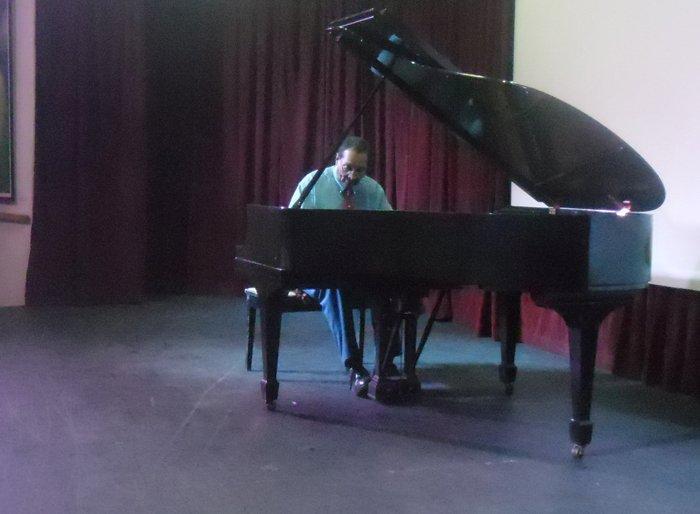 Since 1957, at the age of 28 years with the memorable momentum and music vibrating around him, he toured Europe, Middle East, and Asia. Back in Cuba, he appeared on different occasions with the National Symphony Orchestra directed, among others, by Enrique González Mántici and Roberto Sánchez Ferrer.

Later, the melodies returned to take over the stage, this time in a greater range, where he traveled with the National Ballet of Cuba for Asia and Europe in 1961 and made an impression in the symphony orchestras of China, Soviet Union, Poland, Czechoslovakia, Romania, Hungary, and Bulgaria. In 1963, he visited Brazil as a pianist accompanying Ramón Calzadilla, with whom he performed in Río de Janeiro.

The geniuses also have difficult situations and not all their career is as the biographies relate. They say that one day in one of the Huberal's concerts, there were two people, but when the decorum reigns in human virtue, the audience becomes eternal and the place is full of people. With dignity he said, "I will offer this concert, where again the piano witnessed an elegant musical program."

In 1999, Herrera was invited by the American Composer Orchestra in the Sonidos de las Américas Festival held in New York, which was dedicated to the music of Cuban composers, in which he performed works by Ernesto Lecuona, Félix Guerrero, Marco Rizo Ayala and Juan Piñera.

For his incessant artistic life, he has received numerous honors and decorations such as the Nicolás Guillén distinction awarded by the UNEAC, the medals for the National Culture of the Ministry of Culture and the Literacy, as well as the La Giraldilla distinction of the Provincial Government of Havana.