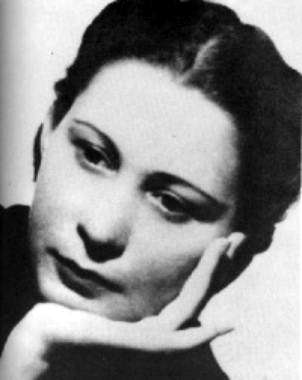 A significant phenomenon occurred in Latin American lyric from the second decade of the 20th century: some of the most important voices of the period are women poets. Not only that: they are also the most remarkable and world famous, to name just a few, remember Gabriela Mistral, Juana de Ibarbourou or Delmira Agustini.

Of that literary group, the Argentine poet Alfonsina Storni stands out for ithers modern expression; she was born on May, 1892 in Sala Capriasca, Switzerland, exactly 125 years ago.

Some say that such a name - especially chosen by a melancholy and rare father - marked her fate, for years later, Alfonsina would confess to her friend, Argentine writer Fermín Estrella Gutiérrez: "They named me Alfonsina, which means ready for anything."

Because of such determination they remembered little Storni in kindergarten as a curious girl who asked many questions, imagined much and lied, an inclination that her mother was committed to amend, since she invented fires, robberies, crimes that never appeared in the newspapers so she got her family into big problems.

When she was ten years, Alfonsina stopped attending school and started to work washing dishes and attending the tables in a family business near a train station.

This undertaking did not have good fortune due largely to the inexperience in business and the alcoholism of the father, who sat at a table to drink until his wife and children dragged him to bed.

During that time, her sister María married Alfonso, a marriage that lasted a short time due to the sudden death of the husband. Some biographers point out that this fact coincides with the age in which Alfonsina began to write and, therefore, evoked that moment in this way:

"At twelve I wrote my first verse. It was night; my relatives were absent. In the verse I talked about cemeteries and my death. I carefully folded and left it under the night table so that my mother would read it before going to bed. The result was essentially painful. The next morning, after a rebellious answer of my own, some frenzied bumps on the head were trying to teach me that life was sweet. Since then, the pockets of my aprons and the bodices of my petticoats are full of blotted paper that dies like bread crumbs."

But the moments of inspiration always had a rival that was an ungrateful obligation for her: domestic tasks, which did not leave her a respite, since she had to help with the sewing of her mother until dawn and with the school tasks of her little brother.

Homework did not suit her, because she did not earn any money and had long hours of confinement. To change her situation, she sought work independently, and found it in many different ways: in a factory, in a theater company, in a pharmacy or in a school.

Many years were lost in search of economic survival, until she found the path to success for her true vocation: literature. In 1916, she published her first book 'La inquietud del rosal', a book of poetry expressing her wishes as a woman and describing her status as a single mother without any kind of complex.

The book, as might be expected from an anguished and prudish critic, was not well received, but its publication allowed her to enter the most renowned literary circles of her country and the continent.

A success for Storni was that Amado Nervo, the Mexican poet of modernism along with Rubén Darío, published her poems in the Mundo Argentino magazine, and this gives an idea of what it would mean to her, a writer without recognition even after having arrived to those pages.

Her book 'Languidez', in 1920, had received the First Municipal Prize of Poetry and the Second National Prize of Literature, which placed her well above her contemporaries.

In 1925, she published 'Ocre', which marked a key change in her work. Her poetry, mainly of love, was also linked to the feminist theme and tried to detach herself from the garments of Modernism and return the look to the real world.

A new book titled 'Mundo de siete pozos' came to light in 1934. After reading this collection of poems Gabriela Mistral commented that "poets like her are born every one hundred years."

She wrote her last book called 'Mascarilla y trébol' in 1937; in it she tried to develop a new way of thinking of poetry and, consequently, a new way of thinking of the world.

The poetic work of Alfonsina Storni is contained in seven volumes and has been cataloged by Alberto Acereda as "a defense to artistic and individual freedom." In addition, the critic affirms that its letters show an excellent poet of love, a woman fighter for the feminine equality that cannot be placed in the radical feminism.

On the other hand, the critic José Miguel Oviedo pointed out that neither the context nor the way of thinking of Alfonsina allow us to doubt her desire to equal man with woman because there is no irony in those verses.

Her prose is feminist, and according to critics, she has an originality that changed the meaning of Latin American literature. The arc that her poetry traces is very broad and complex: from the modernist tradition to the very edges of the avant-garde and neo-baroque formalism of contemporary poetry. In order to show how poetic language evolved, modernized and defined in Latin American literature, the name of Storni cannot be absent.