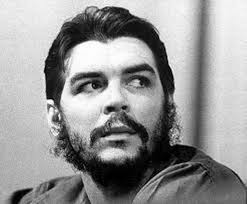 In Bolivia On November 7, 1966, Commander Ernesto Guevara started writing his diary: "Today a new stage begins. At night we arrived at the farm. The trip was pretty good. After arriving, conveniently disguised, at Cochabamba, Pachungo and I made contact and traveled by jeep, for two days and in two vehicles.''

Little by little life became guerrilla survival. A group of men accompanied Che in his persistent ideal to free Latin America. That lasted almost a year. On October 8, 1967, Che was wounded in a thigh and the muzzle of his M-2 rifle was destroyed by a shot, there were no bullets left in his pistol...

At that time, the handkerchief Aleida had given him was enough, so that, in the worst case, it would work as a "love sling". During his captivity in the Higuera, his conviction was sufficient. Death would take care of the rest, as Chief Commander Fidel Castro said, "Che did not survive his ideas, but he knew how to impregnate them with his blood."

His murderers feared that. They invented that his ashes had been scattered through the air. Only in November 1995, the retired Bolivian general Mario Vargas Salina dared to tell the American press that Che's remains and his companions had been buried on the airfield of Vallegrande.

Bolivian President Gonzalo Sánchez de Lozada stated in a presidential decree that if this news was confirmed, the remains would be handed over to his relatives. From Cuba, Dr. Jorge González headed a team of specialists who traveled to Bolivia for the investigation and identification of the bones. There were 13 versions of the burial.

According to historians, more than a thousand people were interviewed. The information was analyzed in an Artificial Intelligence System, through the selection of keywords. There were then 88 versions of the burial. In order of priority the first one said, "It is buried in Vallegrande, in the airport area, in the old runway, in an area located at the bottom of the old cemetery."

Amongst many legends, it was also said that next to Che's remains a bomb had been placed to explode if someone ever discovered his grave. Even so, on June 26, the excavations began: first through the middle of a ditch, on the 27th they tried more to the left, and on the 28ththey used a backhoe to explore 170 centimeters deep. They were within hours of the search permit, but the burial was 167 centimeters deep and at nine o'clock in the morning they were certain of what they found.

All the exhumations began on July 5 at nine o'clock in the morning, except Che's, which took place at two o'clock in the afternoon at the request of the Bolivian Minister of Government who wanted to participate.

The recovery of the remains of Commander Guevara lasted two hours and its rigorous identification in the morgue of the Hospital Japonés of the city of Santa Cruz took almost a week. On July 12, at 1:20 p.m., an airplane from Cubana de Aviación was bringing Che's remains back to Cuba.

That same day, in a headline of the newspaper Granma you could read: "The remains of Commander Ernesto Che Guevara were identified." Seven bodies had been found in the common grave of Vallegrande.

In Bolivia, searches continued for more than two and a half years. In Cuba, a square was built where the Heroic Guerrillero and his companions would rest forever. The transfer to his final destination in Villa Clara counted on the constant accompaniment of the town that revived the sadness of losing him. We cried again. Aleida only asked that the handkerchief would go with Che's ashes, for fidelity, for Cuba, for love, for what he himself once said, always joking and immutable when talking about death:

"The gauze handkerchief. That was different; she gave it to me in case they hurt me in an arm, and it would be a loving sling. The difficulty was whether they split my head. Actually there was an easy solution, I would have to put it on my head to hold my jaw and I would go with it to the grave. He was always loyal even up to his death."