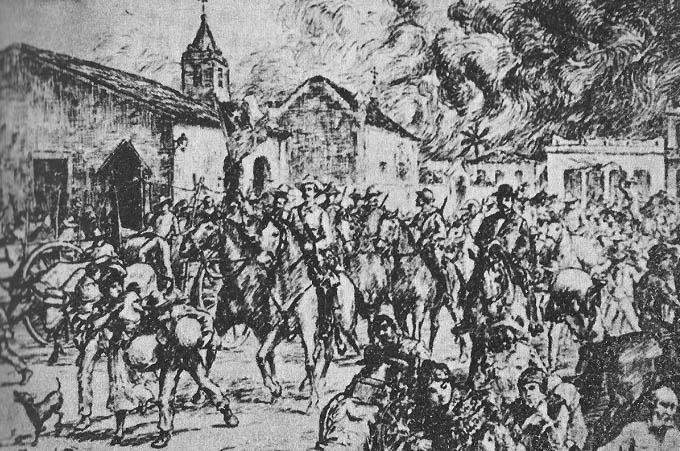 Many are the events that took place during the Ten Years War (1868 -1878) that have extraordinary historical value and clearly demonstrate how much the Cuban people did to get rid of the Spanish yoke in the second half of the 19th century.

Among them is a moving event that occurred on January 12, 1869: the Bayamo fire, just three months after the war began and which had as protagonists the worthy and heroic settlers of what was then the first capital of the Republic of Cuba in Arms.

In an act that can be described as exceptional patriotism, that day more than 10 thousand people settled in the place and headed by Perucho Figueredo, who was the author of the lyrics of La Bayamesa, burned their homes and public buildings, and left the city before it fell again in Spanish hands, an act that also became an extraordinary symbol of heroism and detachment.

With great pain, they left that place leaving behind a burning city that was almost completely reduced to ashes, hence the name that many also attribute to it: "the torch city. "

Until those moments they had enjoyed, since 83 days earlier and for the first time, the independence for which they fought so much, because the capture of the important city of Bayamo had initially meant a great triumph. There the emerging Liberation Army had been installed, under the command of Carlos Manuel de Céspedes since October 18, 1868. Until January 11, the city had experienced an immense delirium, where blacks and whites, rich and poor, Cubans all rejoiced in their freedom.

That last action of losing everything, which is possessed and then assuming a precarious life, was a sample of the highest place where the Bayamo and many Cubans of the time placed the country, and a practical expression of the forging of the Cuban nationality.

With the fire and the departure of its inhabitants, the loss of that city did not mean the end of the struggle, but an act on the right path, because in the coming nine years there were many heroic deeds to be faced and won by the Cuban people.

The importance of this event is still moving and is remembered every year around this date, especially in the beautiful city of Bayamo, a National Monument, which does not forget its historical roots and reissues the burning of the city occurred 149 years ago, with multiple historical and cultural activities since the beginning of January. It is a deserved evocation to those who offered everything for the freedom of the Homeland.