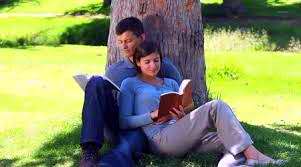 At present, it is indisputable that the act of reading has lost its hierarchy. The factors are multiple: from the competition and originality of other means of entertainment and knowledge up to the poor diffusion and defense of a book.

However, the pleasure of reading for some continues to be an unmentionable party, but have you ever wondered, who reads more: men or women?

It is curious the news I have recently read about an international study carried out on trends and reading habits of people.

Apparently, women have an advantage over men, as they are the ones who read most books up to the end, because the data show that they culminate 80% of those books they start.

Instead, according to the research, men begin to read an equal number of books, but the results tell that men complete 20% of what they begin to read.

The information on this occasion was not obtained from surveys, but from data acquired through online e-books. More than a decade ago, software was created that registers the activity of e-books, in addition, at the end it asked things like if you were man or woman and how old you were. This information has been collected by the company Jellybooks, which has processed the data and recently published this research.

Thus, men are of a distracted tendency or that is affirmed, if in the first five or ten pages, the author does not draw attention to the male reader, he leaves the book, unlike women who continue reading up to the end of the book.

In contrast, men are less likely to choose a book, which is not the case for women who are slow to decide which book to read in the near future. It may be that in the end, it is men who read the most, and not women.

Far from the ridiculous war of sexes that many media try to address, this study is not unusual, and for that reason, we thought it convenient to show it. My interest is not to assert or take side with one gender or another, it does not make sense when we are all perfectly capable of enjoying the pleasure of reading, but it is not surprising how publishers and large companies in the sector continue touching these issues and conducting studies to know if it is better to sell more books to a gender or another, or if books should be published focused on the masculine or feminine world. At least, it attracted my attention, what do you think? Do you affirm the same as the study?