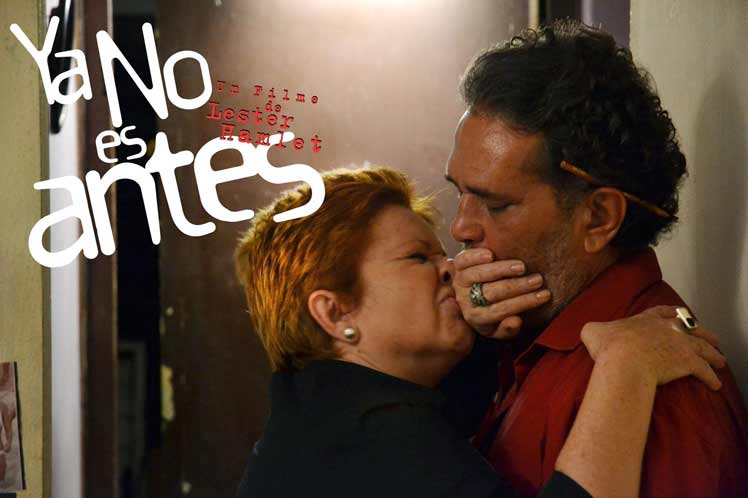 Mayra: Esteban!
Esteban: What?
Mayra: I did not get married, Esteban, I never got married. I turned to drink and pot while I was looking for you; I also looked for you in the breath of other people, Estebita, but I did not find you. One day I realized that as I was looking for you, I was looking for my country.

This is one of the speeches between the only two characters involved in the film 'Ya no es antes' by Cuban director Lester Hamlet, which began its official premiere in the main cinemas in Cuba on March 1st.

The feature film takes as its starting point "Weekend en Bahía", which was written in the 80s by the Cuban playwright Alberto Pedro, but this time it emphasizes love, while the subject of emigration is present in the background, says its director.

"A love that has lasted even to emigration. Emigration is part of the emotional scene of which the protagonists are part or victims; it is not a film about emigration, it is about the perpetuity of love, its sustenance or conservation from the promises made by this feeling," says Hamlet.

"Esteban and Mayra, the moment we meet them, will be two beings who loved each other," says the outstanding filmmaker, "who shared their saliva and illusions in the midst of social processes that mitigate the impossible, and made us dream and dream of imagining and imagining lying. And that is the story. In a Cuba that resists losing its memories and that shelters far from the solemn, this reunion between those who did not have a choice; Mayra's only choice was to leave Cuba and Esteban decided to stay in Cuba."

According to the director, this reunion will allow him to undress and return to look into her eyes and feel the desire to give the other one more time and perhaps forever a welcome; however, although love persists, it is confessed: "it is not like before."

The film premiered in Cuba in the past XXXVIII International Festival of New Latin American Cinema, and in that contest, it obtained the popularity award.

Also, as a seal of quality, the film features the star performances of Isabel Santos and Luis Alberto García, the latter was awarded for his performance in the event.

The film features a script by Hamlet and Mijaíl Rodríguez, the photograph was by Raúl Pérez Uretra, while the music comes from voices such as Bola de Nieve, Van Van, Kelvis Ochoa and Harold López-Nussa, both of these last ones contributed to the enrichment of the soundtrack with special compositions.