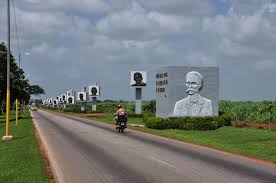 The first time I saw the Mausoleo de los Mártires de Artemisa, I was only 10 years old and my small stature made me perceive that place like a giant colossus.

We were a group of pioneers who visited the place, where there was so much history of our struggle for freedom. It was the first commemorative, funerary work built after the revolutionary triumph. It is a solemn site and the final resting place of Artemisa fighters who fell in the actions of July 26 and in the Sierra Maestra.

I remember that long before I got there, I was astonished due to several tumuli, which were placed on the right side of the road as a symbol of the journey started by the attackers toward Santiago de Cuba. Each of these buildings was crowned by marble cubes in which you could see the names of the fallen, who participated in the Moncada Garrison attack.

I always wanted to look closely at the "Cubo de la Victoria", which is one of the most distinctive elements of this monumental complex. I had seen it so many times on TV, but there is nothing compared to the magic of seeing it in person and in all its splendor.

Then I remembered it as on television images, but this time I admired every detail at will; and very close to the vast coated granite headstone, which houses the funeral hall. That imposing cube that rises skyward and one of its front faces reflects -in beautiful stained-glass windows- one of the most symbolic images of the Revolutionary Triumph: Fidel Castro and a group of rebels with their rifles raised.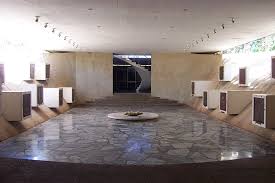 A tunnel allows entry to the room, which greatly highlights the bas-reliefs made of crystallized mud covering its walls. These beautiful details are images that are related to the actions carried out by the July 26 Movement, and the iconic figure of the national hero José Martí, who is considered to be the mastermind of the attack to the garrison that the insurrectionary movement intended to take.

A large outdoor tombstone serves as a ceiling to the funeral parlor, but it does not cover it completely because the design intent was that these openings to the outside, on the slopes where the niches are embedded, would allow the entry of light, air and rainfall, as if it were a waterfall. Undoubtedly, a true natural spectacle so that the place will always remain lit.

A sentence of rebellion and encouragement marks the entrance: "My colleagues are neither forgotten nor dead: they live today more than ever, and their murderers have to see terror as the victorious spectrum of ideas arising from their bodies." Commander in Chief Fidel pronounced that expression on his historic defense ¨History Will Absolve Me.¨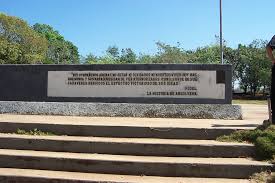 This site was not only designed for the unique features of a mausoleum, but it has also become a point of reference for many events in the province, numerous actions have been projected into the community where these heroes were born.

Children in the province of Artemisa also receive their pioneer attributes and the ceremony where many young people receive their credentials as members of the Young Communist League and the Communist Party of Cuba. Many social, cultural and sporting events have been held here such as the start of the cycling competition through Cuba.

The historical and architectural magic of this site remains today as a symbol for the people of Artemisa. It is a beautiful place where the sense of death is transformed and becomes imperishable history of a nation. (By Ryth Soto Falcón)