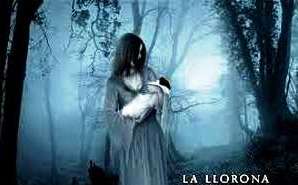 The popular voices will tell the misfortune of a woman who, feeling cheated or mistreated by her husband, killed her children as revenge. How much sorrow will accompany her spirit? How much pity and shame of herself...?

So many times we have heard the legend that the sad narration has included diverse characters, with similar dramas. This has happened throughout the American continent where La Llorona resurfaces in popular slang disguised with different names and spectra.

In Mexico, there was a beautiful Indian who fell in love with one of the Spanish captains. In secret they lived their passion and had three children. But when she wanted to formalize their relationship to have all the privileges involved, the European did not want to risk the concessions of his class and married a high society young lady. In revenge, the beautiful aboriginal girl killed her children and they said that since then she had no rest. Now, at night, she appears as a ghost, with a constant cry for her family.

That is why some people take care when midnight arrives, even many people do not approach the window panes, in case her skeletal figure appears. According to popular voices, La Llorona never accepted what she did, she ignores the death of her children and walks with the eternal hope of finding them.

They say that in other countries they have also seen her. She is described as a young woman with long hair who is wearing a white coat and a black hood. Some versions assure that she walks with a baby in her arms and shouts constantly.

Because of these popular stories, many mothers frighten their children by telling them: "If you behave badly, La Llorona will take you with her..." But the truth is that parents, just in case, do not leave their children alone in the wee hours of the night because "the ghost can come and take them away."

They say that in Colombia, between 8 pm and 5 am, she appears to the infidel men who walk through desolate places: ravines, ponds, deep puddles ... they also say that the ghost wears dirty and frayed dresses and carries a baby in her arms. According to the oral tradition, the woman does not hurt anyone, but she causes terror due to her appearance and screams.

Other versions assert that during the civil war, a general command was established in the Villa de las Palmas or Purificación, and that a military man and his lady lived a beautiful relationship. But the Captain went to battle and everyone said he was dead. She, a seamstress and a decent woman, kept a sublime mourning, until one day a young soldier appeared, captivated her and lived an intense romance while the man was in that area.

Then the loneliness returned to the woman and at nine months she bore the fruit of the adventure, just the same day she was told that her husband had not really died. Fearful at his imminent return, she took the baby in her arms and left the camp for fear of the Captain's reaction. After a long journey through the mountains, the rain surprised her, the streams grew and she died drowned, along with her first-born.

In Chile, she is known as La Pucullén and they say that she always cries because they took her son when he was just a baby. In that country it is said that only people who are very close to death or those with special abilities can see her.

The truth is that this character, which is a fruit of popular imagination, is part of Latin American culture. A source of inspiration for musicians and film directors, La Llorona has been immortalized in the socio-historical development of the continent. Its popular roots will accompany generations and generations that tell, from one voice to another, the constant cries of that soul in pain.