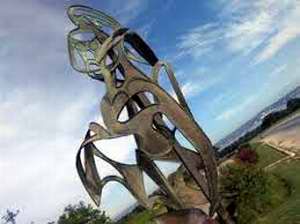 The stories of many aborigines cemented the passion that characterizes Cubans to this day. Before and after the fifteenth century, the archipelago had romantic protagonists who, despite the incipient and rustic life, assumed with unequaled commitment the designs of the soul and the commandments of their gods.

This happened in the settlement of Yucayo, a territory later occupied by the city of Matanzas. There Cibayara lived, daughter of the chief Baguanao. The young woman was in love with the warrior Canimao, who was her happy partner until she became seriously ill.

No one had deciphered how to cure her, only the medicine man Macaorí came up with the solution to her sadness. Before him came the passionate Canimao who received the news that his beloved would heal and have time to become his wife. However, he had to pay a very high price for that divine favor: Canimao, in the midst of his despair, promised his life in return.

According to another account of the legend, Cibayara recovered because in her fate it was written that she would be a mother and her belly was preparing for such a commitment. However, her beloved warrior continued to believe that he should consummate the promised sacrifice and then celebrate the ceremony of formal union, and he went to the river Jibacabuya (now known as Canímar), opened his chest with a dagger and launched himself into the depths.

They say that, as an inviolable tradition, Cibayara and her little Guacumao would go every evening to throw flowers at the current of water that one day dragged the warrior's body in honor of the happiness of the family.

But the sacrificed father never imagined that his son would live a story of similar misery: Guacumao also fell in love with the wrong woman and sealed his destiny to death.
The young man was dazzled with Aibamaya, a beautiful aborigine that many had tried to conquer because of her dazzling beauty. Guacumao was very passionate and did not give importance to what his mother Cibayara said: a prophesy of the medicine man Macaorí had claimed that a man would be born and would turn to stone a woman who killed for love.

But Guacumao, like his father, was not afraid of death, and apparently Aibamaya did not believe that he was in danger of becoming a rock. At the expense of such a prophecy, they went away to live their love.

They disappeared heading for one of the ends of the bay of Matanzas, now known as Punta Maya. There they consummated their desires and were certain that the divine designs would be fulfilled.

They were never heard of. As legend has it, at night fishermen have seen two white rocks in the depths of the sea, because apparently Guacumao died and Aibamaya became a stone, but at least they were lucky enough to remain together until eternity.