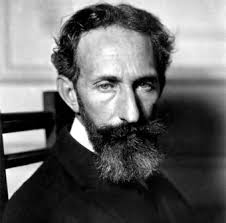 When Horacio Quiroga committed suicide he did not know that Vicente Batistessa would accompany him throughout his death. At the Hospital de Clínicas in Buenos Aires they sealed the pact, but their ghosts would go to Uruguay, to Salto, where the writer was born and to where he promised never to return.

However, there is a monument on the coast, a high school, a school, a park, a hotel, a library and a house museum that pay tribute to him. Those who live in that town say that Horacio's ghost appears at different times of the day, as he is remembered breathing for the last time, with a thick beard and the same smell of jungle ... or with the red blanket, sitting on his hammock chair, always thin, with wrinkled and yellowish skin. They say that he looks sad, and maybe because while agonizing with prostate cancer, Quiroga felt sorry for himself and wanted to return to his homeland, but he had no time. He only returned as ashes that were not to rest in peace.

According to his compatriot Enrique Cesio, "as the center of that house is the mausoleum of Quiroga. From a wandering Quiroga, because the casket that Stefan Ercia carved at the request of Amorín came by railroad, with a ceremony that ended at night in the Quiroga family pantheon; then the architect Barbieri when he opened the Museum of Fine Arts he moved it there. Later it was taken to the Historical Museum, and finally Malaquina, when restoring the family house, he installed it there. It has an axis of vision, and when you enter the house you can see it immediately in the distance."

They say that the urn is cursed, with its overwhelming and strange shape that attracts attention even if you do not want to look at it. Horacio himself had written: "I always felt (even from a very young age) that the greatest torture that can be inflicted on a human being is to live eternally, without respite or rest."
Perhaps he sensed his tragic life since his father Prudencio died in 1879, when he was only two months old; or when his stepfather Ascencio Barcosse committed suicide in 1891; or when he finally decided to get out of Salto, after having killed a friend, by imprudence.


But it did not matter that he hid in the jungle, that he enjoyed the pleasure of young women, that he raised in his house in Buenos Aires a coati, an anteater, and even a deer ... It was not important that he built with his own hands a canoe on which he managed to descend the Paraná, or that his passion for cycling and nature would have been endearing. It did not matter that he had three children, because the suicide would reach them as well, and the father would be left at the Hospital de Clínicas in Buenos Aires.

In the end, if there was an end, nobody said it better than Alfonsina Storni:

Dying like you, Horacio, in your right mind,
And as in your stories, it is not bad;
Like lightning in time and the fair is over...
There they will say.

Precisely, to live up to so much poetry, he drank cyanide. It was Vicente Batistessa who helped him in that last will, a grateful man whom the writer looked after while sharing the same hospital room. Vicente was poor, with a background of confinement and disease, but when he met him, Horacio quickly ordered to be treated with him. There they sealed the pact on February 19, 1937. After so much death, there was no alternative but to go together.


Horacio Quiroga always knew and his ghost honors him: "After all, even the elephants are going to die at the place where they first trotted."