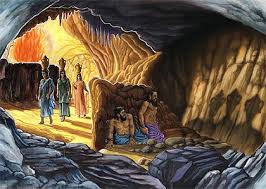 Through history shadows have been a part of the aesthetic discourse of many artists, and enhanced, perhaps, with the popular stories that use them as protagonists.

They have gained autonomy from the gradual assessment of their narrative qualities, as the researcher Alejandra Maddonni would say:

"The shadows in art abandon, little by little, its complementary role with respect to the effects of light, in order to acquire a powerful and significant burden of their own. Their relationship with the referred subject shows them as the double that presents us with the other side of being and, at other times, as an initial sign of an illuminated body."

On the other hand, philosophers have also used them as a reference in their reflections. Such is the case of the "Myth of the Cave", conceived by Plato and which can be found in his book entitled "The Republic". In such an idealist allegory, a group of men chained in the depths of a cave have only seen the wall in front of them.

If behind them (where they are not allowed to look) a wall is raised and a bonfire is lit, they can see the silhouettes of objects and beings of the real world, but they will seem fictitious.

In fact, if they could get rid of the chains and turn around, they would feel confused and their reality would continue to be what they have always seen through shadows.
However, beyond the political foundations of these reflections, popular slang prevails "the shadow" as a macabre element, a symbol of evil and bad omens.

From the ancestral cultures, the legends say that sorcerers had the power to use the shadow to enforce their wills; that through it the person could die while he slept; or that, according to the form that the shadow of a person took, the date of his death could be determined.

At present, vestiges of its symbolism have been maintained, in the beliefs of many who link them with paranormal phenomena, or with routine questions that turn into rituals.

Such is the case of some African tribes. As they say, many of its members avoid crossing open spaces during the day because they think that sunlight "eats" the shadow and flee from it.

During the night they do not see their reflection and they explain it by assuring that in that time all the shadows unite in one, go with their god and take strength and power again. Then, at dawn, they appear renewed.

With all this coming and going their lives pass, in the same way as it does for all of, although we give less importance to our reflection.