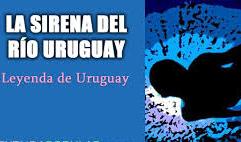 The stories have always said that the mermaids live in the depths of the ocean and that they swim to the beaches only to conquer loves. We all imagine them as magical and sensual beings that arouse the interest of sailors. Even their songs are like spells that have caused shipwrecks more than once.

However, according to a Latin American legend, a mermaid inhabits the Uruguay River. Its current is combined with others such as Paraná and together form the Plata basin. Its waters pass through the territories of Brazil, Argentina and Uruguay, after covering an area of approximately 440 thousand square kilometers.

For many years, the men of the south and the west coast of the country speak of the famous mermaid. Many claim that they have seen it, but the fishermen of Montevideo say that it is not the splendid nymph, with fishtail and woman curves, but quite the opposite.

In El Salto, it is one of the most told stories and, for many of its inhabitants; so many testimonies are proof of their real existence.

After the devotees of the Afro-Umbandist religion built a beautiful Ie-Manjá sculpture on the Las Cavas beach, this legendary being was often seen in this area of the river.

According to the writer Diego Moraes, "the mermaid of the Uruguay River is not a mere complement between a human species and another animal, but perhaps an indeterminate hybrid between both terms. It is known that it has limbs, but these are not the tender arms of a naiad, but a species of tentacles with long claws and fins.

There is also consensus that it has abundant hair, but these are not fine and delicate, but greenish and pinched as if it were a handful of surubí whiskers. Its eyes are yellow and bulging, like those of a toad, and they cannot tolerate light. The whole monster gives the impression of an enormous axolotl, but whose features distantly evoke human features. Its skin, brutally sprinkled with eruptions, is a stone gray color that allows it a camouflage without equal in the darkened waters of the river."

Those who have devoted themselves to studying popular beliefs on the subject agree that it is a very sad and lonely being that almost always hides when it coincides with boats, boats or fishermen. That distinguishes it from the mermaids of the mythological stories that did walk in groups.

However, this could be the last specimen of its race and its defenders qualify it as an inoffensive being that has never hurt anyone and will not do it. It is simply a distinctive element of those places and its villagers are proud of it. Many arrive there only with the motivation to see the ugly mermaid.