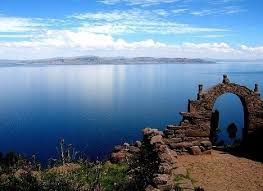 Several legends hide in the depths of Titicaca. This lake is located on the border between Bolivia and Peru, and it is the largest of both countries and the highest in the world: at 3812 meters high.

They say that, on a rock, the first Inca emperor descended to those waters. Since then various rites and mysteries surround the area and many visitors believe the millenarian stories.

Centuries ago, the ritual called Uma Loqta indicated that various products such as quinoa, tubers, corn, dried llama meat, chicha and wine were to be immersed in the center of the water as a tribute. Today, according to one of the legends, when a researcher arrives at Titicaca, he must respect the ancestral traditions and before doing his work he has to make offerings to the lake: flowers and puma bait. They say that "Titicaca puts a curse on people who do not worship it."

During the dry season, the yachaqopaqu (an expert on mysteries), prays for the water to return. The ritual includes drinking pure alcohol to warm the body and thus connect with the Pachamama. At the end, tobacco is smoked and smoke is exhaled in north, south, east, and west directions.

In addition, several mythological versions assure that around the lake different metropolis appeared. As early as 1956, with the first underwater archaeological exploration, it was confirmed the existence of remains of buildings buried by the waters.

In this respect, Professor Rubén Vela, from the Archaeological Institute of Tiahuanaco, states that "these ruins have a sacred character. Their construction suggests a lake temple that would have been the meeting point of a very important religious pilgrimage." Other scientists consider that these works are an extension of the walls of the Temple of the Sun, located in the north sector of the island and that existed before the Titicaca.

Divers have found U-shaped enclosures, whose opening points to the center of the lake, and in addition, have seen paved roads 30 meters long, such as those used by the Inca to move. On the other hand, the yatiris (wise shamans) assure that in those depths is Taypi Qallta, which is the origin of the Aymara universe.

And there are versions that refer to an Atlantis or lost city in the depths of Titicaca, and to the existence of a group of sacred labyrinths (known as Chinkanas) of several kilometers, which in their time could have served as a connection with Cuzco and Macchu Picchu.