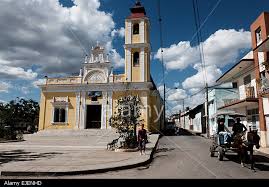 They say that one of the most representative buildings in Sancti Spíritus, the Iglesia Parroquial Mayor, that even today remains a source of many legends that have been woven around this place, which was declared as National Monument.

Located in the Urban Historical Center of Sancti Spíritus, this stately colonial building is as beautiful as in its early days and it retains a very distinctive arch, which separates the nave from the presbytery. This element is considered to be one of its kind in Cuba.

The stories surrounding this enigmatic temple are dissimilar. One of them is closely related to the beautiful "Chapel of humility and patience", which was named after the image of Christ that was placed on its altar.

Sancti Spíritus residents say that a traveler, whose name is unknown, was the one who designed the sculpture in 1698 and remained locked in that place to project the figure for more than a month. While working, the mysterious man covered the altar with a huge curtain, so that no one was able to see his masterpiece until it was finished.

Legend has it that a strong storm occurred in a very dark night and thundering electric shock was heard. The next morning the artist had disappeared like dust in the wind, but a beautiful figure had been carved instead.


The güije of the underground tunnel

The güije, who is one of the most representative figures of Cuban popular legends, is usually associated with rural areas, especially in places such as rivers and ponds, but in this story, the güije is linked to a city area.

Described as a little, big-headed, bug-eyed and disheveled hair black man, they say that the güije would appear in the temple because he came from an underground tunnel, which ran from the Iglesia Parroquial Mayor and came close to the Yayabo River.


The Rooster or the Golden Pigeon?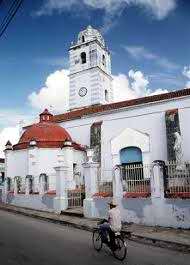 Captain Don Pedro Pérez de Corcha, who was a wealthy landowner, donated to the temple a rooster gold to adorn the altar forever; but in 1665, a band of pirates led by the French Pedro Legrand stormed the village of the Espíritu Santo and, of course, the objects of the Iglesia Parroquial Mayor were amongst the most coveted treasures.

The beautiful golden rooster was stolen and the assailants set fire to the records of the place.
The church took over 10 years to revert back to its former glory. Then, after a major reconstruction that was completed in 1680, the church was restored to what we can see today.

Some say that the enigmatic golden rooster was a dove representing the Espíritu Santo de Dios, hence the name of the fourth villa of Cuba. (By Ruth Soto Falcón)