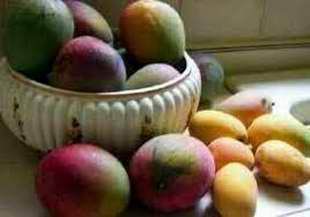 In India, the mango is much venerated. That is why it is considered to be a transformation of "Prajapati, Lord of the Creatures", a deity that presides over procreation. In western culture, this fruit is also linked to myths and legends. Such is the case of Cuba and its mangoes from El Caney, in the east of the country.

The crops in this land of Santiago de Cuba greatly increased their fame thanks to a song written by Felix Benjamín Caignet and popularized by the Matamoros Trio: "... Fruits, who wants to buy fruits harvested in the hills of Caney. Sweet like honey..."

According to the legend, in 1902, the Spanish sailor José Burgos lived in that place and one day he decided to travel to the Dominican Republic because his ex-wife and daughter lived there.

The little girl was only two years old and the father, eager to share with her, asked the mother for permission to let him take her for a walk. The woman agreed to the request.
This is how the girl came to Cuba because Burgos never returned her to her home. That walk was just the pretext to kidnap and bring her to live in the largest archipelago of the Antilles.

Little is said about the sadness of the legend. Maybe the new territory caused curiosity and encouragement to live it, or maybe it was a radical change that affected her sentimentally ... The truth is that the girl was one of the protagonists of this story because her mother, when leaving the house, put two mangoes in a bag in case the snack schedule surprised her little girl on the street. And since her daughter never returned to the Dominican Republic, the seeds of the fruit germinated in the fertile lands of El Caney, where José Burgos had a farm.

They say that the first fruits appeared in the year 1905 and five years later, they were already famous. In fact, many producers went there only to acquire the seeds of the sweetest fruit.

According to historians who have researched in this regard, in 1918 an American scientist, a specialist in soil, came to El Caney to check everything that was said about the region, which was also known as the Paradise of tropical fruits. When tasting the mangoes he compared them with sweetmeats and since then, that species is known as "Bizcochuelo."

Several Cuban and foreign media have told details of this story. Some journalists have quoted Rodolfo Borges (a relative of José Burgos) who claimed that the kidnapped girl was named Constancia, who was his aunt-grandmother and the legend of which she was the protagonist was never denied.