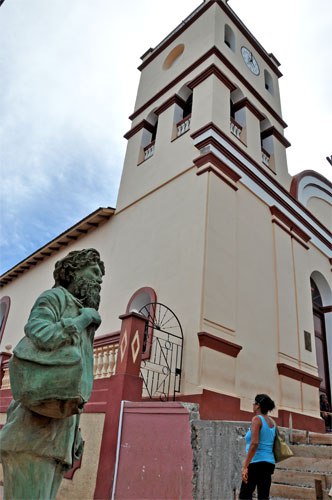 Baracoa, the first city of Cuba, has turned 505 years and even today continues to dazzle locals and visitors, not only for its natural and heritage charms, but also for its surprising treasures and ancient legends that defy the inexorable passage of time.

Known as the Capital of the Cuban cocoa, where the best chocolate of the nation is also produced, Baracoa was founded by Spanish conquistador Diego Velázquez in 1511 and is located in the northwestern part of the province of Guantánamo, surrounded by a mountainous region where there are numerous springs.

In this city full of charms, there is still a story dating back to the nineteenth century and it has passed over from one generation to another until today. It turns out that back in 1893, a mysterious man named Vicente Rodríguez came to Baracoa from Poza, a province of La Coruña in Spain.

They say he was a wealthy merchant who made a fortune in Santiago de Cuba. In those days, he was treated like a lord and his intelligence inspired respect.

One fine day Vincent left, but nobody knew where he had gone. Some time later he returned to Baracoa, exactly in 1896, but his appearance was not the same. The man came stripped of all fortune and wrapped in the crudest misery.

Then he was seen with disheveled hair, a disheveled,curly beard and clothes in rags. They say he completely freaked outand walked barefoot, with his trousers rolled up.

He was never aggressive with anyone, but seeing him wandering alone at night, people began to fear and wield dark fables about the presence of the man, which they called the "Pelú of Baracoa" or "The mysterious."

Some humiliated him and he was even stoned several times. And after several protests, the City Hall decided to expelhim forever of the town.

The day of his departure, "the Pelú of Baracoa" cursed that place. Shortly before he boarded the boat,they heard him say, "In Baracoa, many good plans will be made, many good ideas will be generated, but all of them will be thrown down, nothing will be fulfilled."

The legend is already a century old, but it still remains intact in the memory of the people. And although there are those who believe in it, the truth is that Baracoa has not lost its glory, because it is really a very beautiful land and awarded by the magic of nature.

Crystal-clear waters run along its waterfalls and rivers, amongst which are the Toa, which is one of the deepest of Cuba, with almost 120 kilometers long.

In addition to the cocoa and coffee, which are very distinctive of Baracoa, the first city of Cuba owns an exquisite and deep-rooted culinary culture. No one can leave this place without trying the delicious ice cream cone, which is a dessert typical of the region made with coconut, honey, fruits and sugar.