Undoubtedly, pants are a very practical garment for work and everyday use. Today, women wear this outfit almost all the time. However, this was not always well seen.

A long time ago in the Western world, women wore traditional dresses and skirts, while men wore pants.

Since the nineteenth century, women began to wear them, although it was reserved exclusively for outdoor work. It was not until the late twentieth century that it turned into a fashion item.

It is said that during World War II many women, who were working in factories, coal mines or in military service, wore pants because the job required it. Women working in farms, practicing aviation or horse riding were also allowed to wear this garment.

The first woman who dared to wear a pair of pants in her daily life was Coco Chanel. She always criticized the strict fashion, which imprisoned comfort with eccentric hats that were loaded with animal furs, flowers and tight corsets. That is why Coco became one of the greatest designers of all time, with a remarkable, liberal and modernist style that always would look for simplicity.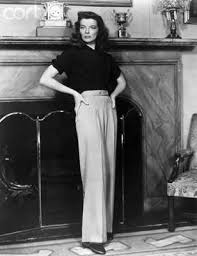 After the war, the controversial outfit became casual clothing for women who could now wear them for gardening, the beach and other leisure activities.

Even big movie stars such as Marlene Dietrich and Katharine Hepburn wanted to adopt the new fashion and posed on many photographs from the period. This undoubtedly helped to keep changing the perception of this comfortable outfit.

Likewise, there are diverse professions that require it in its wardrobe. The so-called pantsuit has become very popular in order to give the elegant appearance of a businesswoman or socially important person.

Undoubtedly, thanks to Coco and other great women of history we can proudly wear glamorous pants today. (By Ruth Soto Falcón)