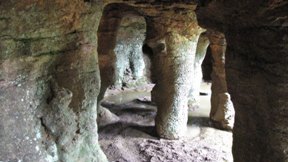 In Uruguay, 236 kilometers away from Montevideo, the capital of the country, there is an emblematic site of Latin American culture and history. Those who arrive to the Departamento de Flores can visit the Gruta del Palacio de los Indios, a rock formation that impresses with its composition: a cavern of approximately 400 square meters, of which only forty are accessible.

For a long time it was believed that that structure came from petrified palms and they even thought about the possibility that the aborigines had built it, since the Charrúas used it as housing. However, research confirmed that the origin of the Gruta is geological, dating to the Upper Cretaceous, more than 70 million years ago.

According to the website of the United Nations Educational, Scientific and Cultural Organization (UNESCO) in Montevideo, "The rock formations that can be seen in the geopark are very old, since they date from the Precambrian, but can also be found in diverse types of rocks and sediments characteristic of other geological periods. The northern part of the site possesses various types of sedimentary rocks from the Permian period, such as sandstones, ftanites and rhythmites. The presence of lateritic soils, with their characteristic reddish color, can also be observed in Grutas del Palacio, where there is a picturesque set of caves. These caves form a unique geological complex with almost a hundred columns about two meters high."

According to historians and settlers of the area, the Gruta was previously much more spacious, you could even go horseback riding and it was the perfect setting for popular parties ... But there are no records of those facts.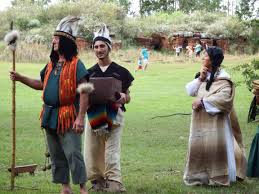 However, what has transcended most from generation to generation is the legend of Darien, the wife of the chief of the Charrúas who lived in the Gruta. According to her own account, all the wealth of her ancestors was hidden in that labyrinthine space: her parents had emigrated from the Golfo de Panama fleeing the Europeans and moved their precious goods from the Dobaida temple up to the Gruta del Palacio, where they decided to settle down.

At the moment this geopark is protected by its natural and patrimonial values, but still, the action of man has deteriorated the surroundings and several columns have collapsed. In addition, during the military dictatorship in Uruguay, several tunnels were closed to prevent them from serving as a refuge for the persecuted.

However, the Gruta continues to receive visitors, who, in order to access the interior, cannot even walk along it, but they have to crawl across the ground. Only a small part of the Gruta can be traversed. Perhaps in the remaining three hundred square meters, the most valuable mystery of this Palacio is hidden.