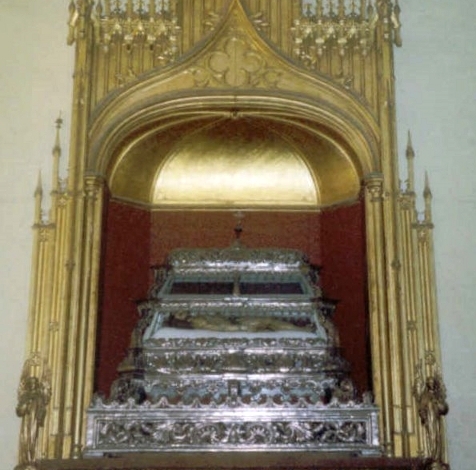 The Holy Sepulcher of Camagüey originated from a love story. Two young people had fallen in love with the same woman and life made sure that only one of them survived to tell and suffer. Nevertheless, the vestige of that painful passage would be carved in silver forever.

The work already has 225 years of existence and is exhibited in the Church of Our Lady of Mercy in Camagüey. It was the Mexican goldsmith Don Juan Benítez who made it by order of Don Manuel Agüero y Ortega. For this, 25 thousand pesos were melted in silver coins. It was, undoubtedly, a unique jewel in our country, and one of the most valuable of Hispanic colonial America, according to historians.

As a tradition, the Holy Sepulcher has accompanied the pilgrimage of the town every Good Friday. Initially it was the slaves who carried it on their shoulders; today, young Catholics assume that responsibility. They say that the sound of the bells that are part of this work is very peculiar and according to the popular voices, these accessories had, originally, curative faculties:

"The Sepulcher had been provided with silver bells, so that when it was carried with a characteristic step, slow and undulating, accompanied by a band of music with a march composed to the effect produced a delicate sound.

For the popular mind, these bells had a special power and could even heal diseases if they touched the patient, so many took over the bells that sometimes fell from the piece during the ceremony and even some who tried to rip them off to save them as relics, so that at different dates, several families from Camagüey had to donate money to forge new ones, "according to Roberto Méndez in his book ´Leyendas y tradiciones del Camagüey' (Editorial Ácana, 2003)

All tried to preserve the magic of that endeavor of Don Manuel Aguero who had been a wealthy landowner. They say that he became a priest in 1749 and that he belonged to the Mercedarian Order. However, he had already suffered, as a father, the murder of his son and with his death, he decided to dedicate his inheritance to the execution of a set of works of art, amongst them the Holy Sepulcher, officially donated to the church on February 9, 1763, according to documents in the Provincial Archive of History of Camagüey.

Manuel Agüero had raised in his house an orphan who was contemporary with his son. The children grew up together and when they reached their age, the family sent them to study law in the capital of the country.

It was in Havana that they met a dazzling woman. They suffered for her, loved her, wanted her and wanted to have her, but only one of them could survive to fulfill those passionate wishes. It was then that the breeding brothers dared to duel for love. Thus the legitimate son of Don Manuel Aguero died.

The father knew the true story through the adopted son who, repentant, went to Port-au-Prince to redeem himself in some way. They say Don Manuel gave him money and a horse to get him away and never return. Only the Holy Sepulcher remained as a vestige of that bitter passage. The father decided to surrender to the divine peace and entrusted his wealth to perpetuate the legend forever.