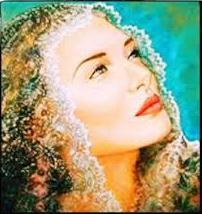 The Mexican legends evoke the beloved cinematography of that American country, where the most extraordinary beauty and the cruelest events of reality go hand in hand, to show the extreme faces of life.

And this legend is about faces. In past centuries, a beautiful young woman named Beatriz lived in Mexico City, her beauty was considered by all, simply unsurpassed.

Her admirers were counted by dozens, and many of them were from the upper and wealthy classes of the country, but the girl was indifferent to the loving requirements of her insistent and devout aspiring fiancés.

Once, the young Beatriz was invited to a lavish dance at the headquarters of the Italian embassy in Mexico. Very elegant, she attended the event, where, at last, her heart lit up when she met a young Italian named Martín Scípoli, who was of good social and financial standing.

Beatriz's indifference came to an end: they both fell madly in love and agreed to the engagement from that memorable night, where they danced together for hours.

But soon Martín began to be exceedingly jealous of everything and everyone who was near Doña Beatriz. In that way, he was involved in continuous fights and challenges, which were testimonies of his insecurity.

So upset and successive were the altercations that Beatriz came to consider the appearance of that love in the eyes of her suitor. Perhaps he only adored her image and not her interior beauty, character and feelings, as she supposed to the uncertainty of the disturbed young man who saw ghosts everywhere, stalking his love constantly. The beauty began to fear that when her loveliness wilted with the passage of time, it would also end the passion she was provoking him now.

This preoccupation pierced her mind with force, until it became irresistible. Desperate, she made a terrible decision to test the integrity of the love they shared.

One day, knowing herself alone at home, she entrusted herself to her saints, asked for her protection and the granting of sufficient courage to carry out her purposes, and set the hearth of her room.

With her eyes protected by a damp cloth, she let the fire burn her face until it left terrible marks on it.

After the fierce act, she called the beloved to her presence, and showed him her scars. She expected the young man's immediate rejection, considering superficial the capricious emotions and the jealousy aroused in him.

For a moment, Martin stared at her in horror, wondering why his lover had destroyed her angelic countenance. The tears that descended from her beautiful eyes, convinced the handsome man of the sinister object of the girl, and very excited, received her body trembling in his arms, to swear eternal love once more.

They say that the marriage dissipated the doubts of all and shared, without distrusting one another, the years that they had to live, always together.