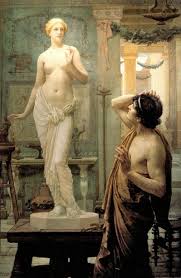 Art gives us beautiful love stories, and this is one of them. This takes place in Cyprus, a beautiful island in the eastern Mediterranean, the third largest after Italian Sicily and Sardinia. It is located very close to Turkey, Syria and Lebanon, in Asia Minor.

As a curiosity, we can add that it has two volcanic mountain ranges, almost parallel to its relief. One of them holds, at its maximum height, Mount Olympus, with almost two thousand meters above sea level.

Legend has it that in ancient Cyprus, there lived a demanding king named Pygmalion, who - like many men today – dreamed of meeting and winning over the perfect woman to be his bride. But no matter how much he looked for, of course, he was not able to find his ideal partner.

King Pygmalion was also a talented sculptor, and in order to avoid feeling alone, he began to surround himself with beautiful statues created with his own hands, which kept him company. One of his favorites was baptized by the sovereign with the name of Galatea. It was the portrait of a woman with perfect proportions, made of ivory.

Once, disturbed in the midst of his solitude, the king dreamed that Galatea came to life. When touched, ivory lost its coldness and was smooth as a woman's skin. Even it reacted to touch.

The goddess of love, Aphrodite, learned about his dream and offered her support to make it happen. Awake, and as a prey of total anxiety, Pygmalion witnessed the transformation of his sculptural creation into a living human being.

The legend does not include the outcome of the story. We do not know if it really was Galatea, turned into flesh, the ideal companion of the sovereign, or a new frustration for his narcissistic ego.

However, modern psychology and psychiatry have called the Pygmalion Effect to prejudice that leads us to realize what we dream too much, of course, if we consciously or unconsciously make every effort to achieve it.