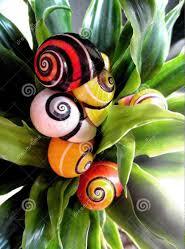 Its radiant colors light up the Cuban fields that, together with the morning dew, seem to give the illusion of a spectacle that is very similar to the rainbow.

Polymita are brown, red, orange, and yellow; it is said that the origin of these tiny snails comes from an ancient legend of love, which occurred in the first Cuban village: Nuestra Señora de la Asunción de Baracoa.

Legend has it that a Cuban cacique was in love with the beauty of an Indian woman of his tribe. The chief decided to court and give her a wonderful gift that would really surprise her. He thought about flowers and gemstones, but realizaed that his gift should be even more special and unique.

Then he went into the woods to try capturing the colors of nature and give them away to his girlfriend.

He wanted to catch the intense yellow of the sun, the pink of the flowers, the white of the wave crests, the green of the mountains, and put them all on the snails. However, at dusk, the sun went down and he could not take the blue of the sky that he admired so much. Instead, he had to settle for the black of night, which was also appreciated for its mysticism and charm.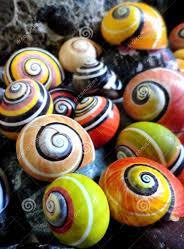 When he finished gathering all the colors needed, he gave them all to his beloved to seal that eternal engagement. The cacique's girlfriend was perplexed at the colorful and magical gift, for which she gave thanks with a beautiful dance. Then the Indian woman danced to her beloved, and at each step, one was able to notice an unusual cadence and delight, which was the result of the passion they both began to weave.

The story has passed on through numerous generations of Cubans, who attribute to the beautiful legend the origin of these magical creatures that still inhabit our fields. But you will never find any that are blue because the cacique failed to catch that color.

Polymita cannot be found elsewhere in the world but in Cuba, which are located mainly in the intricate Eastern regions of Cuba, specifically in Baracoa.
The meaning of the word comes from two Greek words: poly (many) and mita that means (stripes). However, there are polymita that do not have line patterns, but the brightness of their shell's colors is indisputable in almost all of them.However, as everything beautiful in nature is coveted, these mollusks do not escape from that reality. Cuban polymita are threatened and critically endangered because they are constantly subjected to the siege of poachers, who seek their shell for commercial and decorative purposes.

Of course, this is not just a problem of our time. Persecution of polymita dates back to long ago. It is even said that many European settlers chased and then traded them in the Old Continent, where each could fetch a high price.

Today Cubans know that these beautiful jewels of nature should be left to walk freely. Only then, we can tell our children the beautiful legend that keeps the most beautiful snail in Cuba. (By Ruth Soto Falcón)