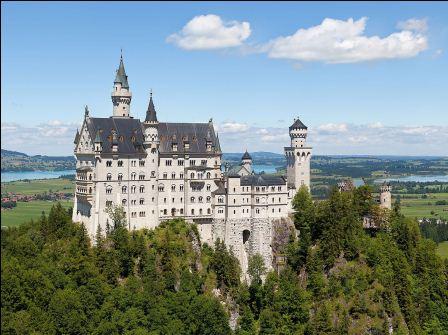 Sometimes Bavaria looks like a medieval city, the setting of a fairy tale or the perfect location to record a film where past and present merge. The great and mysterious buildings of Germany have left great traces over time and many still stand on its walls and stories.

That is the case of the Neuschwanstein Castle, which although it does not belong to the medieval stage, has the distinction of having been built thanks to the commands of King Ludwig II of Bavaria or the Mad King, as he was known in the nineteenth century.

They say that this man was looking for an idyllic and unattainable place and, with such a commitment; the fortress was built in 1868. At that time, defensive constructions of this type were no longer necessary, but many monarchs still maintained their airs of grandeur and splendor as symbols of supremacy.

As they say, King Ludwig personally took care of the interior decoration inspired by the work of the composer Richard Wagner. Even, the name of the castle comes from his work Lohengrin and it literally means Castle of the Prince's new stone. All its beauty could be summed up in an iconic element: it was the model selected by Walt Disney for the castle of the movie "Sleeping Beauty".

The building is of neo-romantic style and out of its 360 rooms, only fourteen were finished. According to the plan, each of them represents a set design for Wagner's operas. It was conceived as a very elegant construction and was one of the first to have electric light.

The spaces of the castle were conceived according to decorative elements, without practical residential considerations. The rooms are set with references to legends and medieval characters such as Tristán and Isolda and Fernando el Católico.

The so-called "Hall of the singers", for example, has murals on the legend of Parzifal and it is inspired by the poet Tannhäuser, who, according to popular voices, had found love with the goddess Venus, on the mountain of Hörselberg.

The plan conceived by Ludwig II was executed meticulously. Just to make the carved wooden canopies of his bed, fourteen sculptors worked for four and a half years. However, the protagonist of this story died before the work was completed.

In June 1886, a medical committee declared that King Ludwig II suffered from dementia. Soon he was transferred to the castle of Berg and, as if the legends that adorn the halls of his beloved Neuschwanstein were not enough, a few days later, his body was found in Lake Starnberg. Since then his death is a mystery.