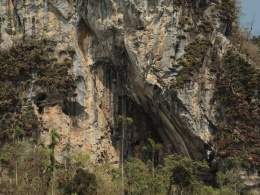 Antoñica was born in 1899 and she already had five brothers. Her parents, Matías Izquierdo and Rosalía González, had emigrated from the Canary Islands and decided to settle in the San Felipe Keys, a very distant place in the mountains, in the westernmost province of Cuba.

In 1915, Antoñica married a peasant from the same area, and she continued the numerous procreation and had the happiness of seven different voices called her mother. But from her Canarian ancestry she had inherited other customs, especially Catholicism mixed with spiritualistic superstitions. The conjunction of those beliefs with the illness of her younger son originated the legend of Antoñica Izquierdo.

According to Cuban sociologist Daniel Álvarez Durán, the child suffered from very high fevers until he reached a serious state of health. "Due to the precarious economic condition, Antoñica did not get her son attended to in the hospital. This precipitated her into a state of almost insane despair. Then she had a revelation, on January 8, 1936, because she saw the image of Virgin Mary that said to her, "Do not worry, your son will not die." And she advised her to put him under a stream of water that fell from the canals of the hut, and so she did, then the two-year-old boy was healed."

In a few days the news traveled through the mogotes (flat-topped hillocks) and soon the Virgin came back to point the way to that grateful woman. They say that in that second divine apparition, she told Antoñica that she had been given the power to heal people, however, she would not use medicines, but water: river water, well, stream ... Water supplied in various quantities, according to the patient's disease.

To assume this gift and to be able to practice it, Antoñica could not have any vices, or receive education through the public education system, nor reveal herself against the government, participate in political activities, or even register in the censuses or in the voting.

That was the genesis of the community known as Los Acuáticos, an unequivocal symbol of the Viñales Valley in Pinar del Río.

Thousands of people reached out to the arms of Antoñica in search of healing for their sufferings, and little by little several families were grouped around the woman, who was endowed with celestial powers.
As early as 1943, Senator Pedro Blanco evicted them from their lands. Then they went to the Cuajaní valley, in an area named La Penitencia, in the Sierra del Infierno, Viñales, where Juan Rivera, the landowner, received them, on the condition that they were to give him a quarter of their crops.

There Antoñica continued her practices, with her intelligible prayers and that phrase of dispossession that has come down to history: "¡Perro maldito al infierno!'' (Damn dog to hell!), next to the ritual that included baths three times a day, but never after the meals.

They say that in the 30's of the twentieth century, in the San Felipe Keys there was no road, and that politicians of the time were harmed and doctors lost customers: Antoñica was a hindrance. So they gradually deployed a strategy for others to think she was crazy. And they managed to commit her to the Psychiatric Hospital of Havana (Mazorra), where they say that they supplied medicines to her to destabilize her sanity. There she died in 1945.

However, amongst the dense vegetation of the Sierra del Infierno voices still tell the story of Los Acuáticos and many arrive to those hills, not to cure themselves with water, but rather to know its story.