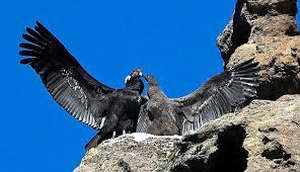 Legend has it that, very close to the Quilotoa volcano in Ecuador, there lived a woman who was turned into a condor by the spell of a love that seemed impossible.

They say that from the circular caldera that is located in the center of the volcano, a fearsome god named Quilotoa always emerged to the surface. This was known as the king of eruptions of all volcanoes around, because when he was furious he used to destroy everything in his path.

They also say that from the lake that was located in the center of the volcano of the same name, there also appeared the Toachi God, who always fought with Quilotoa. And when the latter began its eruptions, the gray color of the sky reflected in the pond and Toachi exploded into a frenzy.

Then Pachacamac, one of the gods who was worshiped by the Andean cultures, created a sacred bird to mediate in this conflict between both gods. So the condor was chosen to watch them. Later the condor flew over those lands carrying news of the war.

But one fine day the bird saw from above a beautiful woman who shepherding her sheep on the moor and soon became spellbound. The bird decided to transform itself into human form and it took on the personality of a shepherd who was sleeping nearby.

Suddenly he took the woman and, converted back into a bird, led her across the sky between his wings and when the lady felt such freedom, she fell in love with the condor. Thus, lovers lying in a nest next to the lagoon Quilotoa in the region of Zumbahua increasingly lit the fire of passion.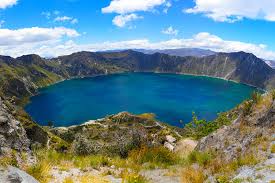 The bird in love decided to turn her into a beautiful condor and pecked gently around her body, taking as witness the beauty of the lagoon.

Since then, they say that the two condors have been eternal witnesses of the events of those magical waters, which are located over 3,000 meters above sea level.

Undoubtedly, it is a beautiful scenario, is as charming as the legend itself. They say its clear waters are so blue as if they have been drawn by the finest painters. The turquoise color is due to the minerals that emerge from the ground and decorate its waters with this beautiful color making it a true spectacle of nature.

Learning about the Andean legends is not only magical for the opportunity of reunion with the past of our roots in America, but also because some of them are very beautiful love stories. (By Ruth Soto Falcón)