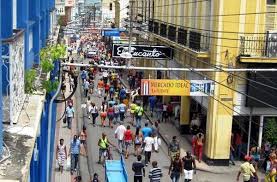 Calle Enramadas Mayor,
girlfriend of our city,
main populous artery
of my Santiago
.... So is the most beautiful Calle 5ta
the most beautiful of
my Santiago ...

This stanza of a popular song of the Cuban group called Son 14 is the hallmark of a beautiful avenue in the eastern city of Santiago de Cuba; it is a corner of declarations of love, history, leisure and why not, sometimes, a shelter from the everyday house chores. In its nearly three centuries of existence, it has always been a faithful reflection of life of the traditional city.

Although it has undergone constant changes over time, however, it has never lost that wonderful charm that once was the "favorite" place of those ladies, who used to wear loose dresses with ruffles, hat and scarf, would pleasantly stroll with their handsome men with trimmed moustaches, suit coats and carnations in the buttonhole of their lapel.

Today, this avenue does not have any palm fronds that not only gave it splendor and beauty, but also its name. The arcades that once mitigated the scorching heat in Santiago disappeared just like horse-drawn carriages and traps.

With changing times, Enramadas has become the avenue where no one can escape the ineffable pleasure of walking "up and down the street." The confluence of its past and present has made it a symbol of Santiago.

But, was this street always named like this? No, of course not. Back in the seventeenth century it was known as the Calle Ancha, because of its greater width in relation to the many narrow and winding alleys in the city. Several traders who were settled in it decided, with the help of neighbors and crews of black slaves, to make it the main artery of the town. Green palm fronds soon covered the entire street, which immediately became a recreation destination for the entire population. Some businesses rose palm frond columns by its doors, and thus the beautiful arcades were born, under which lovebirds would happily stroll.

Many slaves, under the strict supervision of the foremen, were responsible for constantly renewing the palm fronds dried by the sun and weather. Tradition has it that in the second half of the eighteenth century, a major fire caused by a peddler prompted the intervention of the authorities who ordered "the removal of the palm fronds and palisades." The avenue was stripped of all its natural ornaments, but the people continued calling it by the affectionate name of Enramadas. Since then, two centuries have passed, in which it has jealously treasured small features of the early days of our grandparents.

José Antonio Saco is its official name, however, they all prefer to call it Enramadas. Generation after generation has always called it like that. A feverish activity beats in this admirable avenue where cars, buses and trucks run down the street, while beautiful women "like a flirty scarlet moon" embellish the "main artery of my Santiago ..."