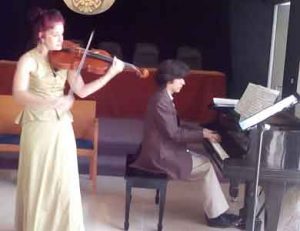 With the suggestive title of "Universo Musical", the violist Anolan González with the pianist Gabriel Chorens performed a concert that deepened in an unusual repertoire on the stages of Havana.

The concert at the San Felipe Neri Oratory included special performances by soprano Alioska Jiménez, guitarist Zuleyda Suárez, violinist Alejandro Vásquez, and violists Gretchen Labrada, Osvaldo Enríquez and María A. Pérez.

The carefully selected program grouped the Sonata Arpeggione by Frank Shubert, a piece of great virtuosity and sonority that consists of three movements: Allegro moderato, Adagio and Allegretto. Also included were works by Johannes Bramhs, Louis Vierne and Maurice Ravel.

The second part of the concert went into the universe of Cuban composers such as Alfredo Diez Nieto, Carlos Fariñas, Juan Piñera and the Colombian Marius Díaz, who showed the versatility and emotional qualities of that string instrument.

It was a delight for the expert audience, the performance of the piece Bolero de Ravel according to Juan Piñera, a seductively balanced work and with ironic nuances that masterfully combines academic thinking and popular sonorities.

In general, the curatorship showed the expressive richness of the viola of universal composers, with particular emphasis on Cuban creators - both groups were closer than many could imagine - who have written for such an instrument.