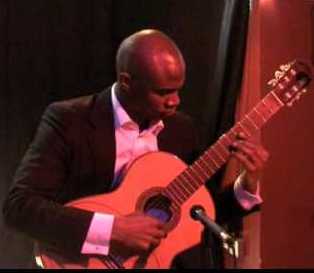 "I am a happy man," Cuban composer Ñico Rojas affirmed in a song, and he paid tribute to that emblematic author, who is an enthusiast of the four truths revealed by the creator of "Mi ayer" in the exercise of his art.

The meeting took place on Saturday, February 18, at the Theater Hall of the National Museum of Fine Arts, where the instrumentalist Ahmed Dickinson performed an extensive repertoire on Ñico Rojas' contribution to the guitar.

The show began with the famous piece Suite homenaje to the feeling by Dickinson, a work that premiered in that same Cuban institution in 2004, and it is a harmonic combination of styles.

After this first performance, the program included the most emblematic creations of maestro Ñico Rojas, which were written in the 50's and 60's, such as Pipo y Arcaño, Elías, and a version that the Cuban composer made to Delirio by Cesar Portillo de la Luz, as well as some ballads and fantasia.

It is worth mentioning that Ahmed Dickinson has been engaged in the risky adventure of harmonizing and properly arranging a classic of the Cuban feeling, that would sound in the jukeboxes of the 50's and today we listen to it again thanks to his work.

The winner of the National Music Award, Marta Valdés, in an article titled "Ahmed Dickinson: un regalo de Ñico Rojas", said, "Beyond the technical aspect, what impressed me most about this boy was the identification with Ñico's thoughts, the full understanding of that complex discourse that makes it unique and, as a result, his ability to make it intelligible. Ahmed takes the guitar arrangement of one piece and gives each of its components the right value, thanks to the level of performance that characterizes him," said the composer of 'Palabras'.

In addition, the criticism has been justly praised for the album "Ahmed Dickinson plays Ñico Rojas", which received one of the awards given by the contest of the 2009 International Fair Cubadisco.