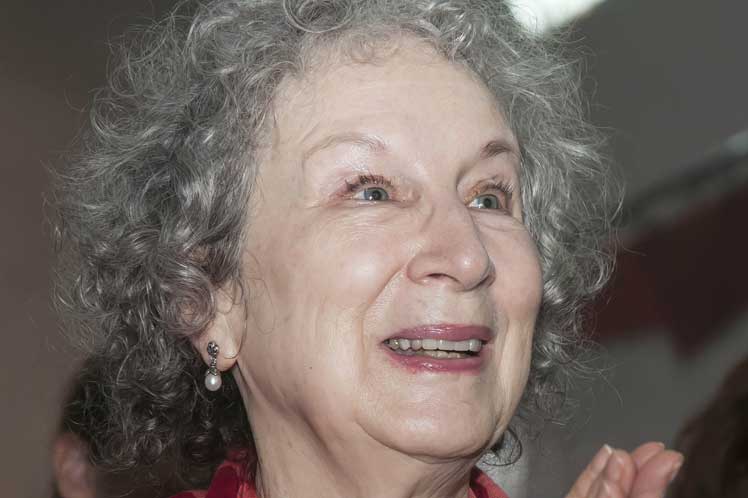 Margaret Atwood is an icon of Canadian literature and is known for her novels of great popularity, currently considered as indispensable in the universal letters.

This famous author participated in the XXVI International Book Fair Cuba 2017 and shared three of her texts with Cuban readers.

The volumes "Antología poética", "El quetzal resplandeciente y otros relatos" and "Desde el invierno" (a compilation of twenty-three Canadian authors prepared by Atwood and her husband the intellectual Graeme Gibson) were presented by essayist Susana Haug and poet Nancy Morejón.

"What allows us to go through these pages is the constancy of an author who renews herself and who challenges herself as an intellectual through the power of the imagination and the word, and it is admirable that a writer who is 70 years old always sounds more and more fresh and vigorous," said the literary critic Susana Haug.

For this analyst, Atwood's books have what a Peruvian poet named César Moro said about art, 'Art begins when tranquility ends'. "These are profoundly unsettling offers that force us to think and reflect," said the Cuban essayist.

She also emphasized that the author does not stop at a single literary genre, but she wrecks preconceived ideas and invites the interweaving of essay, narrative and poetry.

"Her style is already unmistakable and marked by the combination of humor and parody in combination with the challenges to language, expressive possibilities to challenge ourselves and to challenge that culture full of limits, compartments, void and insincerity."

She emphasized that they are not stories written for women, but that she is a woman who writes stories about the human, about life, that is, "she writes about man with the same analytical capacity, with the same power of metaphorization and symbolism with which it does so on the female mind."

Antología poética published by Colección Sur Editores is a bilingual edition that was translated by Cuban poets Pablo Armando Fernández and Nancy Morejón.

According to Morejón, the poems show us the richness of her country and one of her great virtues is to express her inner world in relation to Canada, which brings us to that multicultural, multilingual nation, that culture with indigenous and European traits.

"In poetics it is evident that in Atwood the metaphor can be fed off the speech and she supports a poetry that defends the most human and best of culture," emphasized the member of the Cuban Academy of Language.

For her part, Margaret Atwood especially thanked the translation of her books to Spanish and the effectiveness of this art to convey to other readers the same meaning with which she wrote it in her native language, a task she described as very complex and difficult.

"It is important in these political times in which we are living in the world that people exchange in this way, through literature and art, to be able to know each other better, and promote the exchange as is being done between Cuba and Canada."