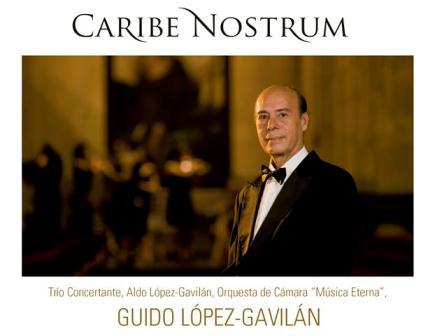 The album "Caribe Nostrum" is a tour through the creations of Guido López-Gavilán seen from different times; it has been produced and performed jointly by the La Ceiba and Colibrí Record Companies, and it stands out for the excellence in its recording and the aesthetic beauty of its proposal as a whole.
Distinguished with the 2016 Cubadisco Gran Premio in academic music, the album –made from a live recording in the Basílica Menor del Convento de San Francisco de Asís -, includes a CD and a DVD that exhibit the musical thought of this distinguished composer in his twenty five years of professional career.
The double volume assures us the mastery of the participants, with top-class performers such as the pianists Leonardo Gell and Aldo López-Gavilán Junco, the clarinetist Dianelis Castillo, the Trio Concertante and, of course, the Música Eterna Chamber Orchestra that founded and conducts the illustrious maestro.
Attractive on the album is the possibility to find two scores dated in 1987: the children's suite "Canciones para Aldito", for piano, and "Habanera sensual", for strings.
The list of titles also includes a work of great creative value as "Variantes coral leyenda", in which the Trio Concertante and the Música Eterna Orchestra work together.
Along with them, a recent creation dated in 2011: "Como un antiguo bolero", also for strings, and all these pieces show the tenacious commitment of a composer who is in full artistic maturity.
The music of the album is accompanied by some enlightening notes of the journalist Pedro de la Hoz.
Caribe Nostrum comes to show that good music is not made in ivory towers nor it is intended for the consumption of elites, but it is an indispensable choice for all audiences that wish to enjoy the best creations of contemporary Cuban music.