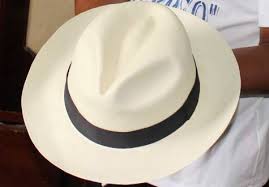 Outstanding for their simple design, but of hard preparation, Ecuadorian straw hats are almost always pale colors and have a black ribbon on its edge. These qualities make this accessory attractive and elegant.

To approach such an emblematic Ecuadorian hat - declared intangible heritage of humanity -, an exhibition that brings together a dozen copies is displayed these days at the hall of the Casa Osvaldo Guayasamín in Old Havana.

Although they are popularly known as Panama hats, they are made by craftsmen in the Ecuadorian coastal region of Manabí from fibers of the toquilla palm (Carludovica palmata).

These creators employ in the preparation of each hat up to eight months in a complex and arduous process of working with this natural fiber, so it is important to recognize these famous hats that became part of the representative list of Intangible Heritage of Humanity by the United Nations Educational, Scientific and Cultural Organization (UNESCO) on December 5, 2012.

Its global boom is marked during the first half of the nineteenth century due to its marketing around those years in Panama, and its widespread use by workers in the construction of the Panama Canal, which for many years was known as Panama Hat, forgetting about Ecuador as its traditional creator par excellence.

Today though some still call it by that name, the Ecuadorian nation is already recognized by the making of the so-called Monte Christie hats.

The Ecuadorian nation and its personalities have been linked to this unique piece of clothing; amongst those who used it is important to emphasize the painter Osvaldo Guayasamín, a genuine Ecuadorian who proudly wore them and also the historical leader of Ecuador, Eloy Alfaro, who was part of a whole process of marketing of that straw hat in order to raise money through sale after the liberal revolution.