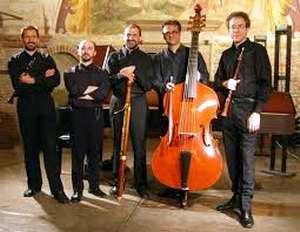 The performance of the Zefiro Ensemble, conducted by Italian Maestro-oboe player Alfredo Bernardini, closed the XII Annual Esteban Salas Early Music Festival.

There was a recital of late Baroque instrumental compositions: Golden era of oboe and bassoon in the old church of San Francisco de Paula.
"On this occasion Bernardini, who has left his mark on the last two editions of the festival by combining, in outstanding concerts, the mastery of his performance with teaching, offered a sample of the golden age of instruments such as the oboe and baroque bassoon, accompanied by his prestigious Zefiro Ensemble,'' said the flute player Susana de la Cruz.
"Amongst the most virtuous and refined chamber music for oboe and bassoon are the sonatas or suites, which were composed in the first half of the eighteenth century by important composers such as Pierre Philidor of Paris, Antonio Vivaldi of Venice, Johann Friedrich Fasch and Jan Dismas Zelenka of Dresden and the Catalan brothers
José and Juan Baptista Pla of Stuttgart, some of these compositions we can enjoy in this concert," said the artist.
She also stressed that on this occasion maestro Bernardini, through his management and the commitment of Ars Longa, led to an approach to the constructive mastery of the Catalan luthier Pau Orriols, who perfectly built two baroque oboes that have been incorporated into academic projects in Havana.
In 1989, the oboists Alfredo Bernardini and Paolo Grazzi and bassoonist Alberto Grazzi, who are members of some of the most important baroque orchestras, founded Zefiro, a versatile musical group that specializes in repertoires of the XVIII century and that gives a particular prominence to wind instruments.
Since then, Zefiro has performed in most major festivals and concert halls in Europe, as well as in Israel, Egypt, Japan, Korea, the United States, Canada, Argentina, Chile, Uruguay and Brazil, and it has always received enthusiastic responses from both the audience and the press.
Zefiro's activity is divided into three formations: chamber format, wind groups (Harmonie) and baroque orchestra, covering a large part of the repertoire from Vivaldi's concerts to Handel's operas; from the Bach's cantatas and Haydn's Masses, up to the music for wind instruments by Mozart, Rossini and Beethoven.