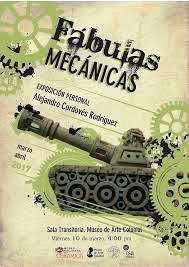 Pottery in the art circuit is sometimes considered to be a lesser language, however, there have been great creators in that aspect in Cuba such as Amelia Peláez, Alfredo Sosabravo and Nelson Domínguez, just to mention a few outstanding figures.

Inspired by these masters, but trying to defend his particular vision, the young artist Alejandro Cordovés Rodríguez shows his Fábulas mecánicas these days in the temporary room of the Museum of Colonial Art.

The pieces of medium format are inscribed in the figurative language, and in them, the creator recycles elements of obsolete machinery or other artifacts, in a playful way, to build a character.

From this particular protagonist, the artist addresses issues such as the transcendence of habitable physical space, war as a contemporary phenomenon, and national history.

"This character came to me in a fortuitous way - comments on the genesis Alejandro Cordovés Rodriguez – it was a friend's mold that had very little relief on its face and when it left the oven I started changing it and that is what you see today; I think it was formerly used as a piggy bank."

Cordovés Rodriguez points out that the curator of this exhibition suggested that he focus on this character, and that he was a contaminant as an element that comes from another world, a little more retinal, more contemplative, inserted in a more artistic work, with a stronger concept, a greater conceptual and aesthetic importance.

Each work is a micro-story, a fable that teaches and questions us, where the popular and the learned converge, the trade of the craftsman and the intellectual rigor of the painter come together to inquire into philosophical concerns, in which the key question seems to revolve around man.

Alejandro Cordovés Rodríguez is a young artist graduated from the University of the Arts in 2003, who in open conversation reveals his career and how he entered the world of ceramics: "I graduated from San Alejandro Academy in 1997; in that institution I was initially interested in making the specialty of engraving, but I was interested in learning to paint and graduated in that specialty.''

"Once finished, I took the exams for the Higher Institute of Art (ISA) and entered with a painting project; I continued painting during the first courses until the third year when I had to enroll in an optional workshop. The one that worked better from the material point of view and with better teachers was that of ceramics. In that environment, I began to respond to the class exercises and little by little I became more and more interested in doing conceptual works with ceramic sculpture, which was what I was most interested in at that time. Then I learned to throw, make plates and decorate them, amongst other skills."

According to Cordovés in the last five years, he has been interested in creating and constructing living, moving parts, without abandoning the clay, a peculiarity that gives his work uniqueness and beauty:

"When I started to participate in the Ceramics Biennials, my pieces, which were originally larger, were changed in format and I began to use things that were not normally used in ceramics as moving and hanging pieces, kinetic elements that are rare in pottery and not that I was part of a kinetic art, but I try to do something different,'' concluded the artist.