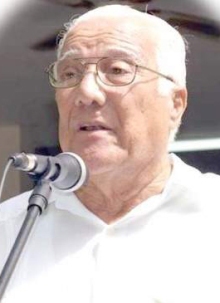 The singer Gilberto Aldanás was the special guest on Friday, November 17, at the Confesiones entre Puentes cultural meeting, which is organized every month by the National Association of Writers and Artists of Cuba (UNEAC), in the province of Matanzas.

In the event, they mentioned passages of the professional experience of Aldanás, who has been a member of several quartets, a founder of the Cuban Television and one of the performers of the first underground recording of the Anthem of the 26th of July in 1957.

The singer Gilberto Aldanás was born in Matanzas on March 2, 1926. It is said that the vocation shone with his mother, Gloria Gutiérrez, who sang. Then he joined a children's company founded by the Aguiar sisters, until he made his professional debut in Varadero, with the Pichardo Trio, on March 8, 1941. After some years, he studied music, although his favorite instrument has always been his voice.

In entertaining dialogue between the host of the meeting, the journalist and critic Fernando Rodríguez Sosa and the Master of Science Leonel Pérez Orozco, who is the Conservator of the City of Matanzas, commented about the book "El visor del tiempo" published by Ediciones Boloña, a work of which Pérez is co-author with other researchers of the Athens of Cuba.

"Confesiones entre puentes" has the script and the production of Rafael Ribot Mendoza, who is the founder of the show with Rodríguez Sosa. The entire show is broadcast live by the Entre puentes Magazine of the provincial radio station called Radio 26.

The event included the participation of Dr. Ercilio Vento, who is the Historian of the City of Matanzas, the architect Ramón Recondo Pérez and the presenter Jorge Alberto, of the Matanzas radio house, who is in charge of the segment with cultural news of the territory.