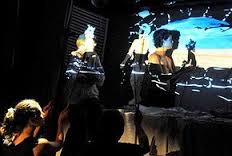 "Hush, the girl Angélica is about to fall asleep, and mom will tell a singing story tonight; there is no more powerful fairy godmother than her, so that all objects come to life.

A universe seems to stem from her sewing machine, and a Bastiana is born, who is restless, little, and light as a fine lace. When the music starts, we will count much more than sheep, let us open our eyes in case some indiscreet pin escapes the seamstress. That is the way journalist Laura Liz Echenique exceptionally describes, in the program, the children's play called 'Bastián y Bastiana' or 'La verdadera historia de cómo mama y papa se hicieron novios'.

The play, which had its premiere as part of the events of the II Mozart Festival Havana 2016, is still shown in theaters all weekends until November 27: from Friday through Sunday at 3 pm at the Teatro El Arca Museo de Títeres located on the corner of Avenida del Puerto and Obrapía.

Under the shadow animation technique from two overhead projectors, the staging is an attractive project for all audiences, especially for children.

"It is a premiere of a provocation - comments the artistic director, Lázaro Emilio Boffill -, which came from the Mozartian Lyceum of Havana and its director Ulises Hernández on how to bring young people and kids closer to the life and work of Wolfgang Amadeus Mozart."

"With that desire, we take the opera that Mozart wrote when he was 14: 'Bastián and Bastiana, and we perform it in the animation theater with shadows", says the actor.

Although the story is very simple, it stands out for its beautiful message of love, "it is an adaptation by Maikel Rodríguez de la Cruz of the work of Mozart and part of the story that a mother tells to her child before bedtime. The mother weaves an imaginary story inside her child's room, using the means available to her, she has a great ability to sew and through these resources (sewing machine, scissors, fabric, thread, needles, etc.) a whole new world full of nice characters is born."

Although the performance only lasts 35 minutes, the working group acknowledges that it has been a long and difficult process, because the elements of the seam were new to them, but in the end the sacrifice has been highly gratifying.

"The public reaction has been very good - says Lázaro Emilio -, I was concerned about the play, not the images that are very nice and shadows are always attractive, but the play itself which is sung in German, and I was worried about the reaction of children, but it was very good, the public was quite varied: there were preschool and other fourth and fifth grade children, and they coped with it; they were captivated all the time and had fun with Angélica, who was an unequivocal sign of its warm welcome."