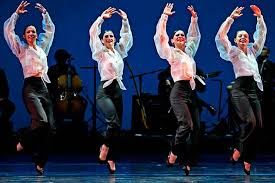 The show Fuerza y compás by the company Lizt Alfonso Dance Cuba has been postponed because of the effects of Hurricane Irma.

19 to 22, coinciding with the 26th anniversary of the founding of Lizc Alfonso Dance Cuba (LADC) and with Cuban Culture Day, according to press release of the Public Relations and Promotion of the famous group.

After several years without fully recovering, LADC's most international show will return to the capital's stages to satisfy one of the biggest petitions of many of its fans.

With an original idea by Lizt Alfonso, who is the author of most of the choreographies, Fuerza y compás will be in theaters on Thursday 19th, Friday 20th and Saturday 21st at 8:30 pm, and on Sunday at 5:00 pm; an opportunity to discover or meet again with this representation that made LADC become the first dance group in Cuba to stage a steady season at the New Victory Theater on Broadway.