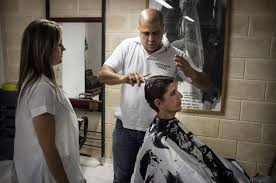 A new call is made by the Arte Corte Project to hairdressers and barbers from the largest Antillean archipelago and the world with the initiative Monumento Tijeras para Cuba.

The call requests them to deliver a used pair of scissors and the organizers will grant accreditations to each participant. Those interested should go to Calle Aguiar, número 11, where the School of Hairdressing is located, in the capital municipality of Old Havana.

Arte Corte is a community development project, supported by the Director of the Master Plan of the Office of the Historian of Havana, where its creator, stylist Gilberto Valladares, better known as "Papito", works together with a group of specialists with the intention of rescuing the values and social respect that the old office of barbers and hairdressers deserves. Likewise, Arte Corte promotes the integral advance of the community of the Santo Ángel, in the oldest part of the capital city.

This beautiful purpose already has 300 scissors received from different parts of the world and will be the gift of hairdressers and barbers from all over the country to Havana. The call will be open until 2019.