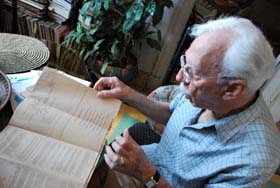 Cuban President Raul Castro acknowledged the significant role played by outstanding Cuban dancer and professor Ramiro Guerra in the founding and development of Cuban modern dance.

In a message to Guerra on his 90th birthday, Raul Castro says that it is a source of pride for contemporary Cuban culture to still count on such a renowned choreographer and researcher.

The message was handed over to Guerra by Culture minister Rafael Bernal during a gathering at the Havana-based Bertolt Brecht Cultural Center of close friends of the professor and figures in the field of performing arts, who celebrated Guerra's birthday, Granma newspaper reports on Friday.

While reading the message, Bernal said the acknowledgment by the head of state was a significant encouragement for Guerra to keep offering his experiences to new generations of Cuban dancers, who are committed to maintaining the island's position as a world power in the field of dance.

A documentary film on Guerra's life and work opened a gala prepared for the occasion, in which participants enjoyed some choreographic works by the National Folk Ensemble and the Santiago Alfonso Dance Company.

Guerra is a very committed, eternal, active and lucid man and a founding figure of dance, who learned the best experiences in his specialty during the 20th century, said author Norge Espinosa.

The author recalled that after the 1959 Revolutionary triumph, the renowned professor offered his useful experiences to the new Department of Dance at the National Theater and later to the Cuban Modern Dance Ensemble; he has definitely left his imprint on the modern dance movement in Cuba, said Norge Espinosa.