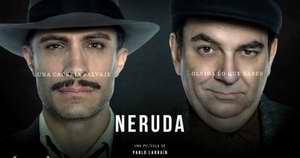 The construction of a fictional character from a real subject is always a great attraction. And it is much more interesting if that character not only existed, but was an illustrious character in his time, whose fame transcends our days through his legacy.

With this charm the film Neruda (2016) by Chilean filmmaker Pablo Larraín was conceived. It is a film that plays with the boundaries between reality and fiction, not only within the life of the writer, but also in regard to the narrative construction itself.

The film recalls the last years of the forties of the last century, in which the famous Chilean poet and communist Pablo Neruda was declared a traitor and was forced to hide until finally leaving the country.

This episode inspired the filmmakers to construct a script with biographical and fictional elements like the construction of a police character, who persecutes the poet by triggering a real game of cat and mouse. This agent is obsessed with catching the poet, and agrees to stop him before he can flee.

With a brilliant script by Guillermo Calderón, Neruda approaches the poet's life in a precise moment: the persecution of communist party militants from the government of González Videla in 1948. While being pursued by the officer, Neruda begins to write "Canto general", which is a work that consecrates him as a symbol of freedom and literary legend.

We must clarify that Neruda does not tell a story, instead takes bits and pieces of the life and personality and political identity of its protagonist, and throws them into a visual and narrative frenzy that sketches a portrait of an iconic cultural figure, while confirming it as someone enigmatic and almost impossible to know.

Described by its director as "rather a Nerudean film" than one about Neruda; it is essentially an incredibly witty and dazzlingly irreverent fantasy, which involves a handful of events in the life of the poet and politician.

The intention of its creator was not to portray a perfect figure and ready to be exalted, on the contrary, here we know a human Neruda, full of imperfections, sometimes selfish, who seeks and needs the public and praises.

The greatest success of this feature film is to return to a life widely revisited by film and literature through a fresh and innovative look, qualities that make us realize that the issues are not exhausted when there is ingenuity and talent.