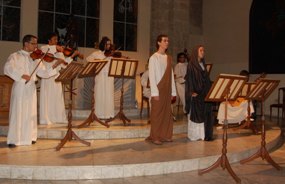 With a diverse repertoire of sacred choir and important Cuban and foreign personalities, the 4th Week of Sacred Music of Havana was held, in which liturgy and religious music converge from ceremonial and concert areas.

Professional groups from the United States, Germany and Cuba participated in the ceremony, and on this occasion the event was entitled ¨Mensaje sacro musical de épocas pretéritas y contemporáneas. SMS Habana 2017¨ (Sacred music message of past and contemporary times. SMS Habana 2017.)

The event was made up of a diverse program that included workshops, conferences and concerts, which extended to performers who perform daily musical practice within the Catholic cult in the Diocese of Havana and musicians from the professional sector.

Music and liturgy have been united since time immemorial, and in one epistle the apostle Paul exhorted the believers of Ephesus (in Asia Minor) to the organic overlap of both: "speaking among yourselves with psalms, with hymns and spiritual songs, singing and praising the Lord in your hearts."

In order to attest to this pleasing communion, the Fourth Week of Sacred Music of Havana had two notable concerts: the first on Thursday, March 2, at the San Felipe Neri Oratory, with the participation of the New Chamber Choir of the Catholic Institute of Sacred Music and Musical Pedagogy of Regensburg (Germany), conducted by maestro Kunibert Schäfer.

This concert included performers such as the pianists Anna Helbich and Christina Müller, and pieces by Cristiano Gamper and Johannes Brahms were also performed in the program.

Meanwhile, the second concert was held on Saturday, March 4, in the Basilica Menor del Convento de San Francisco de Asís, where there was a performance by the choral groupings Cantorum Coralina School, Luna Vocal Ensemble, the Exaudi Chamber Choir, the Leo Vocal Choir, the Polyphonic of Havana and the Choir of the University of Sacred Music of Rendsburg, Germany.

The direction was in charge of the maestro Kunibert Schäfer, a professor at the University of Sacred Music in Rendsburg, who offered for the event a program including the Five Motets by Johann Sebastian Bach.

During the evening, we could hear the organ of the Esteban Salas Gabinete de Patrimonio Musical, on this occasion it was performed by graduate students of sacred music that was sponsored by the Cátedra de Música Sacra del Instituto de Estudios Eclesiásticos Padre Félix Varela, and soloists of the University Orchestra of the Arts, appointed to the Mozart Lyceum of Havana.

From its beginnings in 2014, the Week of Sacred Music of Havana is considered to be one of the musical projects of academic and religious nature of greater impact in the capital.