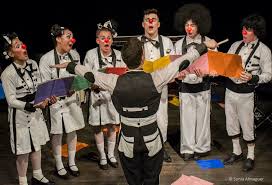 With the purpose of connecting multiple creative, investigative, training and management experiences through the theme axis "Transits: individuals, speeches and social scenarios", inspired by the idea of theater and coexistence, the Laboratorio Internacional de Verano Traspasos Escénicos, at the University of the Arts, was held a few days ago.

Amongst the options offered by the event is the Superbandaclown show by the Teatro Tuyo group of Las Tunas, which was presented at the Bertolt Brecht Cultural Center.

The sui generis work that earned the group the 2016 Villanueva Prize of Criticism was an exceptional opportunity for the public of Havana, because it is - without doubt - a masterful staging.

The synopsis is simple: a group of clowns rehearses a musical performance and in the absence of the orchestra conductor, the members play to be leaders and each time the attempt fails.

With this work Teatro Tuyo critically explores how collective unity is the only way to achieve a greater objective, it also scrutinizes in respect for diversity and the possibility of surprising us with human skills, but the most important part of the piece is the ability to get ourselves into a plausible universe full of utopias.

They emphasize on the scene the successful costume design that integrates organically with the scenery, elements that were thought from the contrasts between white and black, a dichotomous relation that recalls some works by Russian Kazimir Malévich.

Furthermore, we draw attention to the red noses and the sound colors that bring the identification of each character, a quality that achieves added value to the piece as each character manages to differentiate themselves from the rest. In addition, to all this is added the music played by the actors themselves who focus the work on the relationship of the characters.

The staging proves once again the purification of a technique of clown worked with courage and zeal by this group that has taken its performers to very high forms of creation.

It is worth emphasizing the importance that, in order to achieve this artistic result, the specialization of the actors has had in Teatro Tuyo, who reveal to us through their representation a wide spectrum of nuances and manage to individualize each character from the work with the facial mask.