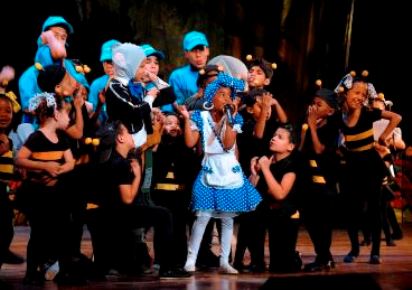 Spreading love and fostering friendship amongst human beings has been the fundamental objective of the Cuban children's theater company La Colmenita for nearly three decades. Knowing of such essences and to unveil new secrets, the documentary Luces y duendes by the Argentine director Luciana Mazza Toimil, inspired by the popular children's company, was premiered at the Charles Chaplin Hall on July 22.

The material of more than an hour delves into the history of La Colmenita and how it paradoxically arose in the context of the difficult decade of 90 in Cuba, a stage known as the special period.

This dream has had the wise direction of Carlos Alberto "Tin" Cremata and the documentary reveals how this great fable succeeded in creating an unprecedented pedagogical-cultural project, whose objective is the formation of values in children. The project carries out an intense pedagogical work, while promoting solidarity, love and friendship amongst human beings, principles for which it was declared by UNICEF, in 2007, Ambassador of Good Will of the United Nations Fund for the Childhood.

For the making of Luces y duendes, important personalities of Cuban culture such as the Historian of the City, Doctor Eusebio Leal, the folk singer Silvio Rodríguez, the singer Omara Portuondo, the UNICEF representative in Cuba - at the time of filming the documentary -, Begoña Orellano, and the visual artist Alexis Leyva Machado, Kcho.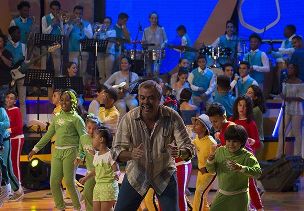 There are also the testimonies of Tin Cremata, as well as other actors and actresses who are founders or members of the company, such as Claudia "Muma" Alvariño, José Armando Alpízar, Luis Manuel Iglesias and the sound director, Janet Rodríguez del Sol.

The documentary Luces y duendes, co-produced by La Colmenita, Medioslentos.com and Cruz del Sur, was filmed between 2014 and 2016.

La Colmenita has acted throughout Cuba and in different nations such as Mexico, Turkey, Haiti, Germany, Panama, Belgium, the United States, Argentina, El Salvador, Japan, Romania, Bulgaria, Canada, Finland, Holland, and France, just to mention a few.

Likewise, the children's group has shared scenarios with leading figures in the world of music, such as the renowned Central American singer Álvaro Torres, as well as the singer-songwriter Liuba María Hevia and the Conjunto Vocal Sampling, amongst others.