With half a century betting on good art, without concessions to the market, genuine and irreverent, the contemporary Cuban maestro Manuel Mendive shows his most recent exhibition Mendive: obras del Museo Nacional.

The exhibition was opened on Tuesday, June 27, at the Galería de Arte Provincial de San José de las Lajas in Mayabeque, and was attended by the Minister of Culture Abel Prieto Jiménez.

Six pieces in oils and two graphic works make up the offering of the renowned painter who, as is characteristic of his work, delves into African iconography, especially the Yoruba pantheon, which is appropriated by the artist to display new pieces that narrate pictorial myths of Cuban culture.

According to a press release, the works show this telluric strength of spontaneous fluidity in order to express its conceptualization of the term identity in a fruitful search for unveiling the Cuban.

Mendive, by appropriating the magic and myth present in the everyday life of believers, has recreated their genuine and particular cosmos, where the gods appear in their relationship with mortals, but not with the mortals acting in the original Yoruba myth, but real men and women.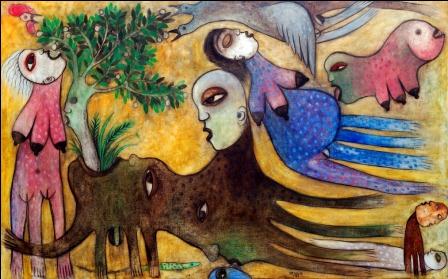 This artist has been described as one of the most prolific and original Cubans in the approach of ethnic-religious themes within the visual arts, whose contributions continue the way of creators such as Wifredo Lam and Roberto Diago.

Mendive's training as a painter, which took place in the 1960s at the San Alejandro Academy of Fine Arts, was later supplemented with studies of Folklore Ethnology at the Cuban Academy of Sciences and History of Art at the Faculty of Arts and Letters of the University of Havana.

Museums and galleries from different parts of the world, including major art capitals, have works by this Cuban author, including the John F. Kennedy Center in Washington and the Museum of Modern Art in the Villa de Paris. His works have been exhibited in different countries of Europe, Africa, Latin America and the Caribbean.

Amongst the many recognitions that have been awarded to the artist is worth mentioning the 2001 National Prize of Visual Arts and the rank of Doctor Honoris Causa of the University of Arts 2015.

Manuel Mendive has also been recognized with the Knight Order of Arts and Letters of the Ministry of Culture and Francophony of the Republic of France, and the Order Félix Varela of the Council of State of the Republic of Cuba.