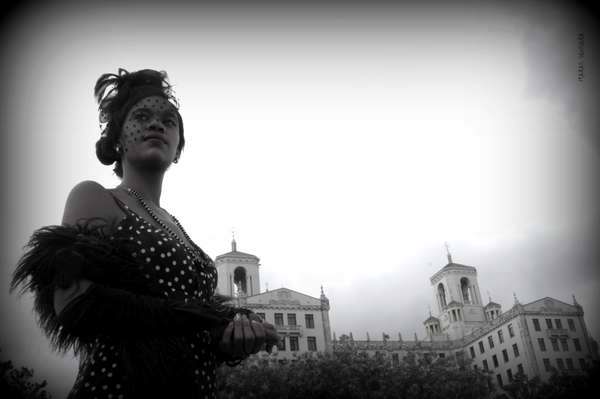 Dressed in suits from the 30s of the last century, the Radio Enciclopedia staff burst into the Hotel Nacional de Cuba before the astonished gaze of guests and workers of the prestigious Havana hotel.

Characters who once stayed in their rooms returned in an imaginary journey through time to learn about the history of the leading institution of tourism in Cuba, which celebrates its 87th anniversary on December 30.

We were invited to share moments of the 55th anniversary of the "station for all moments of life" and began a guided tour with the historian Estela Rivas and the young specialist Aileen. (In this effort, it is worth mentioning Sandra Jiménez and Yamila Fuster).

The old music in a tiny modern device, which was carried by the always-enthusiastic Ariadna, accompanied the tour through some of the facilities, and with much attention, we heard interesting historical data, legends and peculiarities of its role in the revolutionary movement and in the October Crisis, among other things.

In its first decades, many world celebrities such as Johnny Weismuller, Eduardo VIII, Prince of Wales; the artists Errol Flynn, María Félix, Rita Hayworth, Jorge Negrete, Mario Moreno, Pedro Vargas, the scientist Alexander Flemming, and the mobster Lucky Luciano were guests of the National Hotel of Cuba.

Among other personalities, Winston Churchill, Jean-Paul Sartre, Ernest Hemingway and Gabriel García Márquez stayed there, as did Mickey Mantle and Fred Astaire.

The Hotel Nacional de Cuba, which is a National Monument, has been awarded several prizes, including the 2017 World Travel Awards in London that is considered to be the Oscars of the tourism industry.