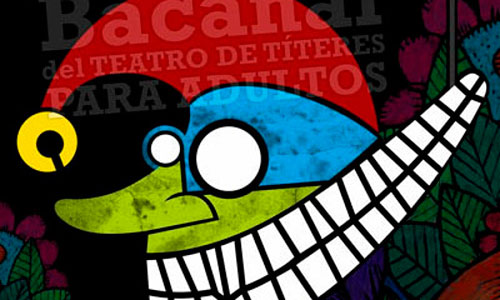 With the aim of recognizing, promoting and encouraging the art of puppets for adults in Cuba, the III Annual Bacchanal of Puppets for Adults, which was held from November 14-21 featured attractive offerings that combined several artistic manifestations.

According to the organizers, the present edition had a greater presence of national shows with groups of Pinar del Río, Matanzas, Guantánamo, Villa Clara and Havana, and also highlighted the assistance of foreign ensembles from Spain, Denmark, Argentina and Italy.

The opening happened at the El Floridita Restaurant, with the participation of all the puppeteers and the public that walked down Calle Obispo as far as Calle Mercaderes to the Plaza Vieja, in the Historic Center of Havana.

There was a performance by the Matanzas group El Mirón Cubano, which conjugated the theatrical representation of puppets with circus elements.

In addition, in one of the buildings surrounding that busy area, the Fototeca de Cuba, the public was able to access an exhibition, which includes photographs of the puppet theater shows for adults that have taken place in the previous bacchanals.

"The event has always had three areas: the programming of shows, the puppeteer cabaret that is very special and the exchange session through workshops", said teacher Esther Suárez, who is the project manager.

As usual, the Puppet Bacchanal for Adults had theoretical programs for reflection and thinking about the puppets and its relationship with the public.

"There were also two workshops: one on shadow theater which was taught at the El Arca Puppet Theater Museum, and another for puppetry at the Museum of Colonial Art, under the direction of the experienced puppeteer Farah Madrigal from Matanzas'', said Suárez.

She also emphasized that the meeting had several venues, amongst them: the Teatro Nacional de Guiñol, the Raquel Revuelta Hall, the Adolfo Llauradó Hall, the Pabellón Cuba, the La Edad de Oro Hall in the capital municipality of Diez de Octubre, and the Teatro de La Villa in Guanabacoa.

The Bertolt Brecht Cultural Center - he said - hosted over the weekend the Puppeteer Cabaret, which were short shows in which music, ballet and circus were combined.

"This year the Bacchanal took on a special feature because it will be held on November 21 in four provinces: Pinar del Río, Santa Clara, Tunas and Bayamo as secondary venues, and that brings the event to new audiences, which is something different and very important", she concluded.