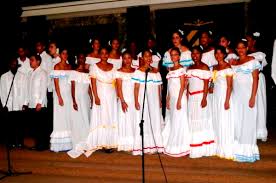 At the Aula Magna of the University of Havana, the Mariana de Gonitch Singing Academy - directed by maestro Hugo Oslé - offered a presentation on December 13 in honor of the leader of the Cuban Revolution, Fidel Castro.

The event brought together two exponents of the lyrical singing: the soprano María Eugenia Barrios, who sang emblematic songs of the bel canto, and Italian Lucía Altieri, who sang for the occasion 'Cuba que linda es Cuba' by Eduardo Saborit.

The show was also joined by guest actress Corina Mestre, and in her voice we enjoyed the poem 'Fidel' by Jesús Orta Ruiz, Indio Naborí, and also the participation of Lolita López - popularly known as 'La voz ranchera de Cuba' - who sang 'La Lupe', a composition by the Commander of the Revolution, Juan Almeida Bosque.

The program included the pieces 'El gran día de enero' and 'La victoria', which are related to important events in the history of our country: the Triumph of the Revolution in 1959 and the Bay of Pigs Victory in 1961.

During 2016, the Mariana de Gonitch Singing Academy held a presentation dedicated to our Commander in Chief for his 90th anniversary, and with this recital entitled Fidel is Cuba! These events will conclude next Tuesday.