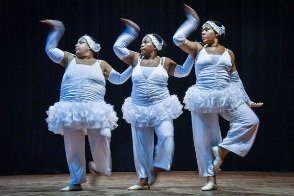 As Carlos Gardel's tango sings "twenty years is nothing", but later states, "but the traveler who flees sooner or later stops his walk ..." And in that pause there is a reflection on that lapse by making a rescue of memories, illusions, anecdotes ...

The sui generis Cuban company "Danza voluminosa" reached in 2016 two decades since its founding, and for that reason last weekend a one off gala performance was held at the Covarrubias Hall of the National Theater of Cuba. It was possible to enjoy some milestones of this group, as well as premieres and elite guests from the companies Danza Contemporánea de Cuba and Acosta Danza.

The celebration, although it is undoubtedly a moment of rejoicing, makes it possible to go deeper into the difficult road which this unusual project has had to follow.

Opening a gap in the Cuban scene was not easy, its premiere was not a success, nor did the Cuban critics cover them, for a long time they simply ignored them, but the determination, dedication and professionalism of its members made them achieve recognition on their own merit.

Danza voluminosa was established in 1996, and it was a totally different experience in the Cuban dance of the XX century. In its genesis, it had the sponsorship of the Contemporary Dance Company of Cuba, and arose from the need of its creator and director Juan Miguel Mas to make a dance for the ample body, assuming the palpable reality of people.

They presented their first concert program in the Che Guevara Hall of the House of the Americas, sponsored by the Theater Department of that institution, which opened its doors and that was the birth.

It was a group with four dancers, a singer and an Argentine dancer who already had dance techniques, but it was ample. The latter joined the director and made a duet and also Juan Miguel performed a piece with her and two girls, and so they were on stage for the first time.

"In the first performances there was a sepulchral silence," remembers Juan Miguel Mas, and some were getting up and leaving, and some were laughing ... but when people saw the development of our work, how strong it was and what there was behind all that training, an aesthetic sense, in the end they applauded a lot."

That first step was criticized by many, but received the consent of others who saw in Danza voluminosa an interesting and absolutely new offering for Cuban spectators.

After their debut they premiered the piece 'Corazón sonoro' in 1998, which was based on the history of the Cuban pianist Bola de Nieve. A year later they would perform 'Como un beso entre hojas secas', but it was not until 2000 when Voluminous Dance achieved national and international recognition with the show 'Freda', under the direction of the maestro Ramiro Guerra, premiered at the Teatro Mella on January 26, 2001.

Then came 'La muerte dulce', a version made by Juan Miguel of a novel by a Moroccan writer of French origin, which deals with an obese young woman rejected by society who wants to commit suicide by eating sweets.

In early January 2016, the company had the opportunity to perform at the prestigious National Theater of Havana on the initiative of a group of Americans, who arrived in the country as part of an agreement between the University of Massachusetts and the Association of Writers and Artists of Cuba (UNEAC). They performed for a privileged few, one of the most famous pieces of ballet, Swan Lake with a resounding success.

Currently still Juan Miguel Mas and his company continue avoiding incalculable obstacles within the Cuban dance scene, however, his perennial insomnia is the work for the good art and claim of obese people, who can express their spirituality through dance as a means of artistic expression.