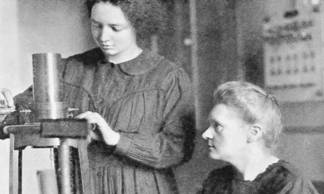 Adorned by the visions of the Belle Époque, an exceptional child was born in Paris on September 12 1897. Her parents were scientists, and she soon learned everything related to the natural sciences and also poetry and political radicalism. These influences were transmitted by her grandfather Eugene, who took care of her so that her parents could work in the laboratory, where they discovered polonium and radio in those years.

Her name was Irene Curie, and was the first-born of the marriage formed by Marya Slodowska and Pierre Curie, both deserving of the Nobel Prize in Physics and then she alone, of Chemistry, a gesture that she would repeat years later when she was a professional, together with her husband Frederic Joliot, "In recognition of the synthesis of new radioactive elements", according to the minutes of the Swedish Academy.

Both the parents and the grandfather instilled to the little Irene moral and ethical values based, not on social conventions, but on the defense of her personal autonomy, security and firmness of criterion. Only then she could achieve her dreams.

At the age of 17 and in the middle of World War I, she helped her mother, Marie Curie, to install X-ray units in military hospitals, where she also explained how they should be handled.

Already a professional, she started her research on alpha particles and emissions of different chemical elements in 1921. The studies of Frederic Joliot were in the same direction, and since they loved each other as much as their common scientific project, they decided to marry in 1926.

At the beginning of the thirties of the last century, the couple were immersed in research about the isotopes of several elements, a subject that would be much needed in medicine, scientific research and current industry.

Soon their research ended up in the discovery of the artificial radioactivity. Thus they were awarded the Nobel Prize in Chemistry in 1935.

During World War II, they emigrated to Switzerland. After the war, they returned to Paris, and she became the director of the Radio Institute and the French Atomic Energy Commission.

But only for a decade, because like her mother, Irene died of leukemia on March 17, 1956, because of prolonged exposure to radioactivity. She left two children: Helena and Pierre, and also her great work for the whole humanity 120 years after her birth.