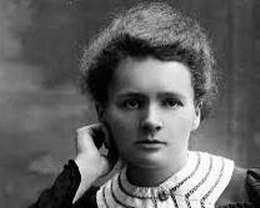 If you are told of Marya Sklodowska, you may not recognize the illustrious Polish learned woman, whose name was inscribed forever in the book of the essentials of humanity.
But if you are told of Marie Curie, you will know at once that she is an extraordinary woman, who, thanks to her personal sacrifice, her research and knowledge, was awarded no less than two Nobel Prizes of the Swedish Academy in the early twentieth century, being the only scientist who has managed to possess this pair to date.

Science celebrates her 150th birth in Poland, November 7, 1867, in the bosom of a traditional family; she was the youngest of the children. At the end of the secondary education she tried to continue her studies, but at that time Polish universities did not allow the enrollment of women in its disciplines.

Marya did not hesitate and began to work and save for eight years in order to help her sister, whom she first sent to Paris to study medicine.

She followed her in 1891 to study Physical Sciences, from which she graduated with honors; then she studied mathematics and obtained the category of research. Thus, in 1895 she met physicist Pierre Curie, who became her husband and also a colleague with whom she shared her first Nobel Prize in 1903 in Physics, "in recognition of the extraordinary services her joint research has given on the phenomenon of the radiation discovered by Professor Henri Becquerel," according to the Academy's report.

Before her professional success she had had a great personal success: after the first two years of marriage, her first daughter had been born: Irene, and Pierre's father, already a widower, had gone to live with the couple to help with the care of the granddaughter. It was then that Marie decided to take radioactivity as the subject of her doctoral research. After four years of experiments and confirmations, the pair of scientists could explain the phenomenon embodied in radioactive elements such as uranium and thorium.

In 1904, their second daughter was born and they named her Eva Denise. Two years later, the father died suddenly in a traffic accident. Desolate, Marie took refuge in the research that they both had shared with so much love, and continued until she achieved her second Nobel Prize in 1911. This time "in recognition of her services for the advancement of chemistry by discovering the elements radium and polonium, by means of the isolation of the radium and the study of the nature and components of this surprising element." Of course, polonium was named thus in tribute to Marie's homeland.

Unstoppable in her work, this scientist developed studies on the use of Roentgen rays in the field of physiology and medicine, which would be put into practice during the world wars, in military hospitals. But the continuous exposure to radiation caused a fatal illness in Marie Curie, which made her increasingly weak until she died of leukemia in 1934.

The human and professional legacy of Marya Sklodowska, or Marie Curie, did not end her death: she left to humanity some commendable work, with important practical results for the treatment of diseases such as cancer, and two daughters and relevant work. The first-born assumed her laboratory and career, where she achieved honors similar to those of her mother, while the second was successfully devoted to literature, music and humanitarian work worldwide.
150 years after the birth of the well-known "mother of atomic physics", we honor the memory of Marie Curie from the digital pages of Radio Enciclopedia.