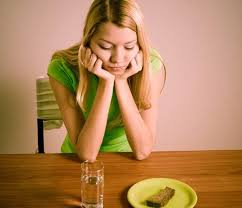 Let us begin by clarifying that the word is derived from the negative prefix "an" and from the Greek orexis, (meaning appetite), and is used to define a common symptom in multiple diseases of both organic and psychological causes. Moreover, it consists precisely of what its etymological roots indicate: lack of appetite.

When we speak of anorexia nervosa, we are referring to a serious, sometimes life-threatening disorder characterized by persistent and voluntary refusal to eat food, marked weight loss and other disorders associated with poor nutrition. In most of these patients, the symptoms are derived from psychological difficulties.

Research shows that it is observed more frequently in young people and in the female population. The usual age is around 20 years, although it may occur at puberty and even before it ... and it is produced by the exaltation of extreme thinness, which is originated in the universe of fashion and widely publicized by TV and other media.

Can anorexia lead to death ... or suicide? Yes, in some cases it can even lead to starvation and death, because the anorexics do not seem to be aware of the serious damage that occur. Some psychiatrists consider mental anorexia as a variant of suicide.